What Is International Trade?
International trade theories are simply different theories to explain international trade. Trade is the concept of exchanging goods and services between two people or entities. International trade is then the concept of this exchange between people or entities in two different countries.
People or entities trade because they believe that they benefit from the exchange. They may need or want the goods or services. While at the surface, this many sound very simple, there is a great deal of theory, policy, and business strategy that constitutes international trade.
In this section, you'll learn about the different trade theories that have evolved over the past century and which are most relevant today. Additionally, you'll explore the factors that impact international trade and how businesses and governments use these factors to their respective benefits to promote their interests.
What Are the Different International Trade Theories?
"Around 5,200 years ago, Uruk, in southern Mesopotamia, was probably the first city the world had ever seen, housing more than 50,000 people within its six miles of wall. Uruk, its agriculture made prosperous by sophisticated irrigation canals, was home to the first class of middlemen, trade intermediaries…A cooperative trade network…set the pattern that would endure for the next 6,000 years."Matt Ridley, "Humans: Why They Triumphed," Wall Street Journal, May 22, 2010, accessed December 20, 2010, http://online.wsj.com/article/SB10001424052748703691804575254533386933138.html.
In more recent centuries, economists have focused on trying to understand and explain these trade patterns. Chapter 1 "Introduction", Section 1.4 "The Globalization Debate" discussed how Thomas Friedman's flat-world approach segments history into three stages: Globalization 1.0 from 1492 to 1800, 2.0 from 1800 to 2000, and 3.0 from 2000 to the present. In Globalization 1.0, nations dominated global expansion. In Globalization 2.0, multinational companies ascended and pushed global development. Today, technology drives Globalization 3.0.
To better understand how modern global trade has evolved, it's important to understand how countries traded with one another historically. Over time, economists have developed theories to explain the mechanisms of global trade. The main historical theories are called classical and are from the perspective of a country, or country-based. By the mid-twentieth century, the theories began to shift to explain trade from a firm, rather than a country, perspective. These theories are referred to as modern and are firm-based or company-based. Both of these categories, classical and modern, consist of several international theories.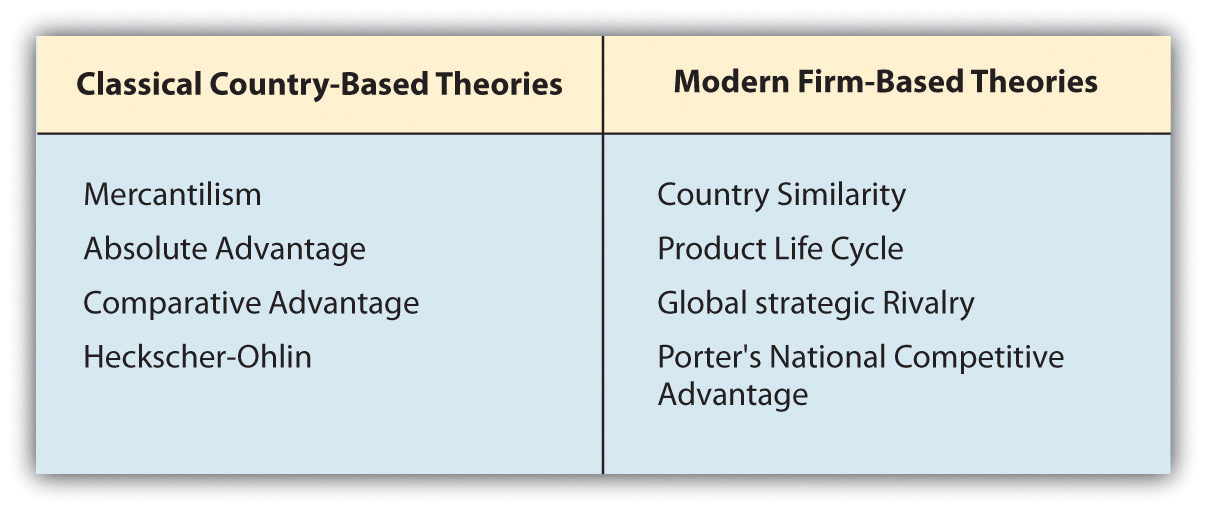 Classical or Country-Based Trade Theories
Modern or Firm-Based Trade Theories
In contrast to classical, country-based trade theories, the category of modern, firm-based theories emerged after World War II and was developed in large part by business school professors, not economists. The firm-based theories evolved with the growth of the multinational company (MNC). The country-based theories couldn't adequately address the expansion of either MNCs or intraindustry tradeTrade between two countries of goods produced in the same industry., which refers to trade between two countries of goods produced in the same industry. For example, Japan exports Toyota vehicles to Germany and imports Mercedes-Benz automobiles from Germany.
Unlike the country-based theories, firm-based theories incorporate other product and service factors, including brand and customer loyalty, technology, and quality, into the understanding of trade flows.
Which Trade Theory Is Dominant Today?
The theories covered in this chapter are simply that—theories. While they have helped economists, governments, and businesses better understand international trade and how to promote, regulate, and manage it, these theories are occasionally contradicted by real-world events. Countries don't have absolute advantages in many areas of production or services and, in fact, the factors of production aren't neatly distributed between countries. Some countries have a disproportionate benefit of some factors. The United States has ample arable land that can be used for a wide range of agricultural products. It also has extensive access to capital. While it's labor pool may not be the cheapest, it is among the best educated in the world. These advantages in the factors of production have helped the United States become the largest and richest economy in the world. Nevertheless, the United States also imports a vast amount of goods and services, as US consumers use their wealth to purchase what they need and want—much of which is now manufactured in other countries that have sought to create their own comparative advantages through cheap labor, land, or production costs.
As a result, it's not clear that any one theory is dominant around the world. This section has sought to highlight the basics of international trade theory to enable you to understand the realities that face global businesses. In practice, governments and companies use a combination of these theories to both interpret trends and develop strategy. Just as these theories have evolved over the past five hundred years, they will continue to change and adapt as new factors impact international trade.
Key Takeaways
Trade is the concept of exchanging goods and services between two people or entities. International trade is the concept of this exchange between people or entities in two different countries. While a simplistic definition, the factors that impact trade are complex, and economists throughout the centuries have attempted to interpret trends and factors through the evolution of trade theories.
There are two main categories of international trade—classical, country-based and modern, firm-based.
Porter's theory states that a nation's competitiveness in an industry depends on the capacity of the industry to innovate and upgrade. He identified four key determinants: (1) local market resources and capabilities (factor conditions), (2) local market demand conditions, (3) local suppliers and complementary industries, and (4) local firm characteristics.
Exercises
(AACSB: Reflective Thinking, Analytical Skills)
What is international trade?
Summarize the classical, country-based international trade theories. What are the differences between these theories, and how did the theories evolve?
What are the modern, firm-based international trade theories?
Describe how a business may use the trade theories to develop its business strategies. Use Porter's four determinants in your explanation.