Chapter 9

Sexual Behavior
Social Problems in the News
"More Texas Schools Teach Safe Sex with Abstinence," the headline said. Across Texas, sex education in the public schools typically emphasizes the need for abstinence and ignores the concept of safe sex. But in the western Texas town of Midland, school officials decided to include safe sex into the school district's sex education curriculum for the seventh and eighth grades after several years of rising teen pregnancies, with 172 students pregnant in 2010. A school official said, "These are girls as young as 13 that are pregnant; some of them are on their second pregnancies."
In what is called an "abstinence-plus" approach, the new curriculum continues to urge students to wait to have sex, but it also teaches them about birth control and condoms. A consultant at the University of Texas who was advising the Midland school system scoffed at the idea that teaching teenagers about safe sex encourages them to have sex: "I can assure you kids aren't getting aroused when they see a condom." She added that teenagers hear about and see a lot of sex on television and the Internet and hear about it from their friends. Given this backdrop, she said, it is important that they get accurate information about sex: "The more you know about your body, how to make better decisions and choices, the better decisions that adolescents make," she said, adding, "The more we demystify it, the more we talk about it, the better."
The school official was optimistic that the new curriculum would reduce teen pregnancies, but she was realistic about the difficulty of the problem. "I would love to be able say [it is] going to be 100-percent effective, we're going to turn this thing around," she said. "What we are going to do is impact children to make better choices in regard to sexual integrity. And that would potentially be delaying sexual activity. We're not going to stop teenagers from having sex. I wish we could, but we're not going to."
Source: Smith, 2011Smith, M. (2011, September 16). More Texas schools teach safe sex with abstinence. The Texas Tribune. Retrieved from http://www.texastribune.org/texas-education/public-education/condoms-safe-sex-appear-more-texas-sex-education/.
This news story reminds us that sexual behavior is often cause for concern and the basis for certain social problems. It should come as no surprise that social scientists study many aspects of sexual behavior and have provided a good deal of insight on sexual issues. This chapter discusses the social scientific evidence for various types of sexual behavior and issues relating to them: teenage sex and pregnancy, abortion, prostitution, and pornography. Although people often have strong views about these issues, we will see that the social scientific evidence sometimes challenges the views that many people hold.
9.1

An Overview of Heterosexuality
Learning Objectives
Explain what happened as a result of the sexual revolution.
Describe current views on sexual behavior.
Understand the prevalence of certain sexual behaviors today.
Because Chapter 5 "Sexual Orientation and Inequality" discussed sexual orientation and inequality, this chapter's discussion of sexual behavior focuses almost entirely on issues concerning heterosexual sex. To provide a backdrop for these issues, we first provide an overview of heterosexual behavior and views about such behavior.
The Sexual Revolution: Changing Attitudes and Changing Behavior
The 1960s were a time of major change in the United States. The Southern civil rights movement and Vietnam antiwar movements shook the nation, and the women's rights, gay rights, and environmental movements began. Another major change was the sexual revolutionA substantial change during the 1960s and 1970s in many aspects of Americans' sexual behavior and in how they thought about sex., which saw a substantial change in many aspects of Americans' sexual behavior and in how they thought about sex. Thanks in large part to the introduction of the birth control pill, women became freer to have sex without fear of pregnancy. The hippies of the youth counterculture of the 1960s emphasized free love, the idea that sexual intercourse and other forms of sex need not be delayed until marriage, and a popular slogan heard during the Vietnam antiwar movement was "make love, not war." A highlight (or lowlight, depending on one's view) of the era was the Summer of Love in 1967, when tens of thousands of young people gathered in the Haight-Ashbury neighborhood of San Francisco to do drugs, have sex, and engage in other counterculture activities. The appearance of HIV and AIDS during the 1980s reversed some of the trends of the sexual revolution, as people became more concerned about the consequences of unprotected sex, but the effects of this revolution largely remain: Many more people now have sex before marriage than before the 1960s, and views about certain sexual behaviors have become less conservative since the 1960s and 1970s (Harding & Jencks, 2003).Harding, D. J., & Jencks, C. (2003). Changing attitudes toward premarital sex. Public Opinion Quarterly, 67(2), 211–226.
We can see evidence of changing views about sex in data from the General Social Survey (GSS), which has been administered nationally since the early 1970s. One of the questions the GSS asks is about premarital sex: "There's been a lot of discussion about the way morals and attitudes about sex are changing in this country. If a man and woman have sex relations before marriage, do you think it is always wrong, almost always wrong, wrong only sometimes, or not wrong at all?" In 1972, only 27.2 percent of the public replied it was "not wrong at all," but by 2010, this percentage almost doubled to 53.1 percent (see Figure 9.1 "Change in Views about Premarital Sex (Percentage Saying Premarital Sex Is "Not Wrong at All")").
Figure 9.1 Change in Views about Premarital Sex (Percentage Saying Premarital Sex Is "Not Wrong at All")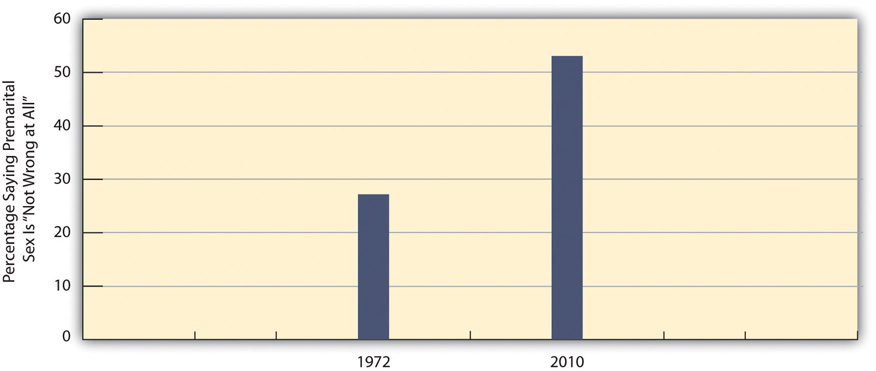 On two other issues, extramarital sex and sex between teenagers, views have not changed from a generation ago. Very few Americans today, fewer than 5 percent, think that either type of sexual behavior is "not wrong at all," and very few thought they were not wrong a generation ago when the GSS asked about these two behaviors. As all these trend data indicate, the sexual revolution changed certain sexual attitudes but did not affect other attitudes. In this respect, then, the sexual revolution was only partly revolutionary.
Certain changes in sexual behavior also occurred as part of the sexual revolution. In particular, many more people began having sex before age 18 during and after the 1960s than before the 1960s and, in a related trend, to have more sexual partners before age 18 (Laumann, Gagnon, Michael, & Michaels, 1994). We can see evidence of the former trend in national survey data reported in Table 9.1 "Percentage Who Had Heterosexual Sex before Age 18", which shows the percentage of people born in different decades (birth cohorts) who had sex before age 18. Among women, less than one-third of those in the 1933–1942 and 1943–1952 birth cohorts (who would all have reached age 18 before the sexual revolution) had sex before age 18. These low figures jumped to 47.6 percent for those in the 1953–1962 birth cohort (who became teenagers in the 1960s and 1970s, during the sexual revolution) and then grew further to 58.2 percent in the next birth cohort. In a twenty-year span, then, women became 28.2 percent more likely (= 58.2 – 30.0) to have sex before age 18. Men, too, became more likely to have sex before age 18, though at a slightly smaller rate of increase, 18.8 percent (= 61.3 – 42.5) over the thirty-year span shown in the table. In related figures, only 30 percent of teenaged girls in 1972 were sexually experienced; by 1988, this figure had jumped to 51 percent (Martinez, Copen, & Abma, 2011). The remarkable increase in teenage sex for both females and males since the 1960s has had important repercussions down to the present, as we shall see in the section on teenage sex and pregnancy later in this chapter.
Table 9.1 Percentage Who Had Heterosexual Sex before Age 18
| Birth cohort | 1933–1942 | 1943–1952 | 1953–1962 | 1963–1974 |
| --- | --- | --- | --- | --- |
| Women | 32.2 | 30.0 | 47.6 | 58.2 |
| Men | 42.5 | 47.9 | 56.8 | 61.3 |
Source: Laumann, E. O., Gagnon, J. H., Michael, R. T., & Michaels, S. (1994). The social organization of sexuality. (p. 328) Chicago, IL: University of Chicago Press.
Heterosexuality Today: Attitudes and Behavior
Americans' attitudes today about heterosexual behavior are very diverse. On some issues, Americans are fairly united, either in a more tolerant and accepting direction or in a less tolerant and unaccepting direction. On other issues, Americans are fairly divided, with large numbers of people feeling one way and large numbers feeling another way. The American public is probably even more diverse in its sexual behavior: Some people have a lot of sex and engage in a variety of sexual activities, while other people have less sex and limit their sexual activity to vaginal intercourse. To gain a sense of what Americans are thinking and doing in the area of heterosexual activity, national surveys provide some important evidence.
Attitudes
As noted earlier, the GSS asks respondents to indicate their views on several types of heterosexual behavior and issues related to this behavior. We'll first look again at their views about sexual behavior that we examined earlier in the discussion about the sexual revolution. This time we will focus on the percentage who say the behaviors are wrong ("always wrong," "almost always wrong," or "sometimes wrong") (see Figure 9.2 "Views on Sexual Behavior (Percentage Saying the Behavior Is Wrong)").
Figure 9.2 Views on Sexual Behavior (Percentage Saying the Behavior Is Wrong)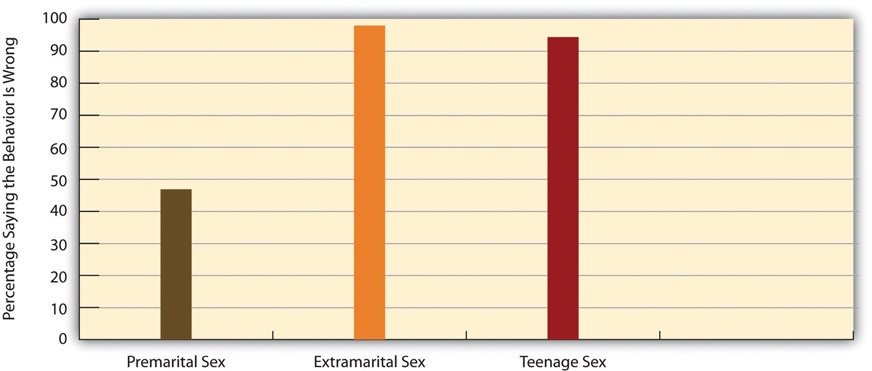 Figure 9.2 "Views on Sexual Behavior (Percentage Saying the Behavior Is Wrong)" shows that Americans almost unanimously think that adultery (extramarital sex) and teenage sex are wrong, but that they are fairly evenly split on whether premarital sex is wrong, with 47 percent saying it is wrong and the remainder, 53 percent, saying it is not wrong at all.
Certain aspects of our social backgrounds predict our views about premarital sex. In particular, women, older people, and those who are more religious are more likely than their counterparts to disapprove of it. We see evidence of these trends in Figure 9.3 "Correlates of Disapproval of Premarital Sex (Percentage Saying Premarital Sex between a Woman and a Man Is Wrong)", which focuses on the percentage of GSS respondents who say that premarital sex is wrong (always wrong, almost always wrong, or sometimes wrong). Gender and age are moderately related to views about premarital sex, while religiosity is strongly related to these views.
Figure 9.3 Correlates of Disapproval of Premarital Sex (Percentage Saying Premarital Sex between a Woman and a Man Is Wrong)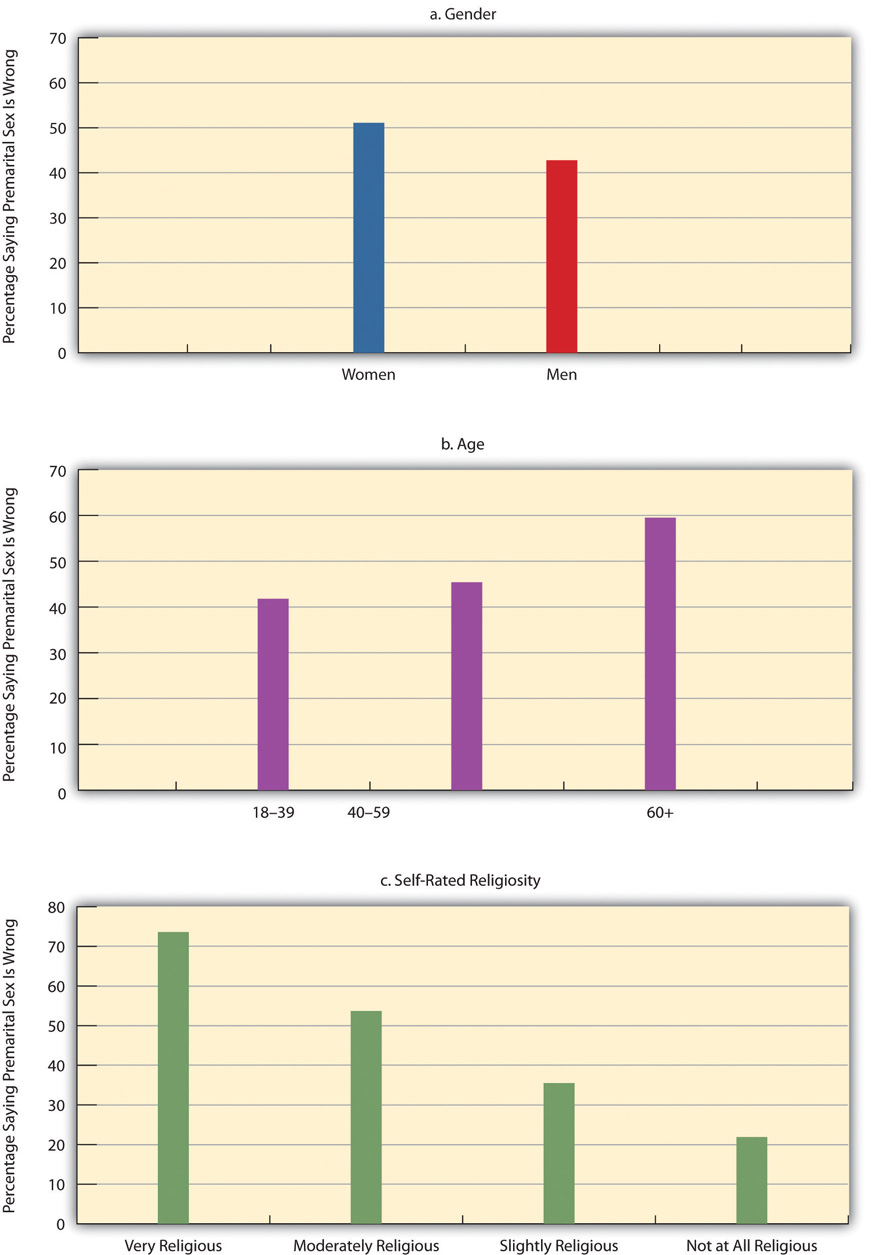 Behavior
A good understanding of Americans' sexual behaviors comes from the 2006–2008 National Survey of Family Growth (NSFG), which was administered to 13,459 Americans ages 15–44 nationwide. Although this survey omits people older than 44, it still yields valuable information about people in their prime reproductive years. Chapter 5 "Sexual Orientation and Inequality" on sexual orientation also used some NSFG data.
Table 9.2 "Lifetime Prevalence of Sexual Behaviors, Ages 15–24*" reports some NSFG gender-based data on several kinds of sexual behaviors for young people ages 15–24. Although many people think that males are much more sexually active than females, the data in Table 9.2 "Lifetime Prevalence of Sexual Behaviors, Ages 15–24*" show that the gender differences in heterosexual contact are practically nonexistent. Reflecting a conclusion from Chapter 5 "Sexual Orientation and Inequality"'s discussion of sexual orientation, however, females are more likely than males to have had same-sex sexual contact. In one other gender difference not reported in the table, males (17.6 percent) are more likely than females (9.4 percent) to have at least two heterosexual partners in the past year. In this specific sexual activity, then, males are indeed more active than females.
Table 9.2 Lifetime Prevalence of Sexual Behaviors, Ages 15–24*
Females
Males
No sexual contact
28.6
27.2
Any opposite-sex contact
70.1
71.7
Any opposite-sex contact: vaginal intercourse
65.1
62.9
Any opposite-sex contact: gave or received oral sex
62.6
64.0
Any opposite-sex contact: anal sex
20.2
20.9
Any same-sex behavior
13.4
4.0
* Percentage engaging in behavior at least once
Source: Chandra, A., Mosher, W. D., Copen, C., & Sionean, C. (2011). Sexual behavior, sexual attraction, and sexual identity in the United States: Data from the 2006–2008 national survey of family growth (National Health Statistics Reports: Number 36). Hyattsville, MD: National Center for Health Statistics.
We saw earlier that higher degrees of religiosity are strongly associated with greater disapproval of premarital sex. Does this mean that religiosity should also be associated with a lower likelihood of actually engaging in premarital sex? The answer is clearly yes, as many studies of adolescents find that those who are more religious are more likely to still be virgins and, if they have had sex, more likely to have had fewer sexual partners (Regenerus, 2007). Survey data on adults yield a similar finding: Among all never-married adults in the GSS, those who are more religious are also more likely to have had fewer sexual partners (Barkan, 2006). We see evidence of this relationship in Table 9.3 "Self-Rated Religiosity and Number of Sexual Partners in Past Five Years among Never-Married Adults Ages 18–39 (%)", which shows that among never-married adults ages 18–39, those who are very religious are more likely to have had no sexual partners in the past five years and, if they have had any partners, to have had fewer partners. Although it is hypothetically possible that not having sexual partners leads someone to become more religious, it is much more likely that being very religious reduces the number of sexual partners that never-married adults have.
Table 9.3 Self-Rated Religiosity and Number of Sexual Partners in Past Five Years among Never-Married Adults Ages 18–39 (%)
| Number of sexual partners | Very religious | Moderately religious | Slightly religious or not at all religious |
| --- | --- | --- | --- |
| 0 | 31.1 | 7.6 | 9.2 |
| 1 | 29.5 | 29.6 | 21.6 |
| 2 or more | 39.4 | 62.8 | 69.2 |
Key Takeaways
The sexual revolution liberalized some views about sexual behavior and increased participation in some forms of sexual behavior, particularly premarital sex.
Gender, age, and religiosity predict attitudes about premarital sex.
There are little or no gender differences today in the prevalence of various heterosexual behaviors, but men are more likely than women to have had at least two sex partners in the past year.
For Your Review
Do you think the sexual revolution was a good thing or a bad thing? Explain your answer.
Did it surprise you to learn that women and men are equally sexually active today? Why or why not?
9.4 Prostitution
Learning Objectives
Summarize the history of prostitution in the United States.
List the reasons that lead many people to dislike prostitution.
Explain the problems that streetwalkers experience and why these problems occur.
ProstitutionThe selling of sexual services., the selling of sexual services, is yet another controversial sexual behavior. Many people, and especially those with conservative, religious views, believe prostitution is immoral because it involves sex for money, and they consider prostitution a sign of society's moral decay. Many feminists believe that prostitution is degrading to women and provides a context in which prostitutes are robbed, beaten, and/or raped. These two groups of people might agree on little else, but they both hold strong negative views about prostitution. Regardless of their other beliefs, many people also worry that prostitution spreads STDs. All these groups think prostitution should remain illegal, and they generally prefer stricter enforcement of laws against prostitution.
Other people also do not like prostitution, but they believe that the laws against prostitution do more harm than good. They think that legalizing prostitution would reduce the various harms prostitution causes, and they believe that views about the immorality of prostitution should not prevent our society from dealing more wisely with it than it does now.
This section presents a short history of prostitution before turning to the various types of prostitution, reasons for prostitution, and policy issues about how best to deal with this particular sexual behavior. Because most prostitution involves female prostitutes and male customers, our discussion will largely focus on this form.
History of Prostitution
Often called the world's oldest profession, prostitution has been common since ancient times (Ringdal, 2004). In ancient Mesopotamia, priests had sex with prostitutes. Ancient Greece featured legal brothels (houses of prostitution) that serviced political leaders and common men alike. Prostitution was also common in ancient Rome, and in the Old Testament it was "accepted as a more or less necessary fact of life and it was more or less expected that many men would turn to prostitutes" (Bullough & Bullough, 1977, pp. 137–138). During the Middle Ages and through the nineteenth century, prostitution was tolerated as a necessary evil, as legal brothels operated in much of Europe and were an important source of tax revenue. As the dangers of venereal disease became known, some cities shut down their brothels, but other cities required regular medical exams of their brothels' prostitutes.
Prostitution was also common in the United States through the nineteenth century (Bullough & Bullough, 1987). Poor women became prostitutes because it provided a source of income at a time when they had few other options for jobs. Some prostitutes worked for themselves on streets and in hotels and other establishments, and other prostitutes worked in legal brothels in many US cities. During the Civil War, prostitutes found many customers among the soldiers of the Union and the Confederacy; the term hooker for prostitute comes from their relations with soldiers commanded by Union general Joseph Hooker. After the Civil War, camps of prostitutes would set up at railroad construction sites. When the railroad workers would visit the camps at night, they hung their red signal lamps outside the prostitutes' tents so they could be found if there was a railroad emergency. The term "red-light district" for a prostitution area originated in the red glow that resulted from this practice.
Many US cities had legal brothels into the early 1900s. Beginning in about 1910, however, religious groups and other parties increasingly spoke out about the immorality of prostitution, and in addition claimed that middle-class girls were increasingly becoming prostitutes. Their efforts succeeded in shutting down legal brothels nationwide. Some illegal brothels continued, and among their number was a San Francisco brothel run during the 1940s by a madam (brothel manager and/or owner) named Sally Stanford. Her clientele included many leading politicians and businessmen of San Francisco and nearby areas. Like other earlier brothels, Stanford's brothel required regular medical exams of her employees to help prevent the spread of venereal diseases (Stanford, 1966). Despite or perhaps because of her fame from being a madam, Stanford was later elected mayor of Sausalito, a town across the bay from San Francisco.
Prostitution in the United States Today
No one really knows how many prostitutes we now have. Prostitutes are not eager to be studied, and because their work is illegal, the federal government does not compile statistics on their numbers as it does for physicians, plumbers, teachers, and hundreds of other legal occupations. One well-analyzed estimate put the number of female prostitutes at 70,000 and further concluded that they engage in an average of 700 acts of prostitution with male customers annually, or almost 50 million acts of prostitution overall each year (Brewer et al., 2000). However, other estimates put the number of prostitutes as high as 500,000, with many of these prostitutes working part-time, whether or not they also work in a legal occupation (Clinard & Meier, 2011).
Regardless of the actual number, prostitution is very common. The GSS asks, "Thinking about the time since your 18th birthday, have you ever had sex with a person you paid or who paid you for sex?" In 2010, 11.9 percent of men and 1.7 percent of women answered "yes" to this question. These figures translate to about 13.5 million men 18 and older who have engaged in prostitution, usually as the customer, and 2.1 million women.
In 2010, police and other law enforcement agents made almost 63,000 arrests for prostitution and commercialized vice (Federal Bureau of Investigation, 2011). Most of these arrests were of prostitutes, but some were of customers. Women accounted for almost 69 percent of the arrests in this entire category.
Types of Prostitutes
Several types of prostitutes exist. At the bottom of the prostitution "hierarchy" are streetwalkersProstitutes who typically find their customers, or are found by their customers, on a street and who then have a quick act of sex in the customer's car, in an alleyway or other secluded spot, or in a cheap hotel. (also called street prostitutes), who typically find their customers, or are found by their customers, somewhere on a street. They then have a quick act of sex in the customer's car, in an alleyway or other secluded spot, or in a cheap hotel. Although streetwalkers are the subjects in most studies of prostitutes, they in fact compose only about one-fifth of all prostitutes (Weitzer, 2012).
The remaining 80 percent of prostitutes generally work indoors. Call girlsProstitutes who work as independent operators in their homes or fancy hotels and charge higher rates for their services. work as independent operators in their homes or fairly fancy hotels and charge a lot of money for their services, which include sex but also talking and dining. Their clients are typically businessmen or other wealthy individuals. Many call girls earn between $200 and $500 per hour, and some earn between $1,000 and $6,000 per hour or per session (Weitzer, 2009). EscortsProstitutes who work for escort agencies and may operate out of an apartment rented by their agency or come to a client's hotel room or other location. work for escort agencies, which often advertise heavily in phone books and on the Internet. They may operate out of an apartment rented by their agency or come to a client's hotel room or other location. Although they may actually act as an escort to a dinner or show, typically their services include sexual acts. They, too, are generally well paid for their work, but do not earn nearly as much as call girls because they have to give at least 30 percent of their earnings to their agency.
Call girls and escorts rank at the top of the prostitution hierarchy (Weitzer, 2009). Below them, but above streetwalkers, are three other types of prostitutes. Brothel workersProstitutes who work in brothels (houses of prostitution)., as the name implies, are prostitutes who work in brothels. The only legal brothels in the United States today are found in several rural counties in Nevada, which legalized prostitution in these counties in 1971. Workers in these brothels pay income tax. Because their employers require regular health exams and condom use, the risk of sexually transmitted disease in Nevada's brothels is low. Massage parlor workersProstitutes who work in massage parlors., as their name also implies, work in massage parlors. Many massage parlors, of course, involve no prostitution at all, and are entirely legal. However, some massage parlors are in fact fronts for prostitution, where the prostitute masturbates a man and brings him to what is often termed a "happy ending." A final category of prostitution involves prostitutes who work in bars, casinos, or similar establishments (bar or casino workersProstitutes who work in bars, casinos, or similar establishments.). They make contact with a customer in these settings and then have sex with them elsewhere.
The lives and welfare of streetwalkers are much worse than those of the five types of indoor workers just listed. As sociologist Ronald Weitzer (2012, p. 212) observes, "Many of the problems associated with 'prostitution' are actually concentrated in street prostitution and much less evident in the indoor sector." In particular, many streetwalkers are exploited or abused by pimps, use heroin or other drugs, and are raped, robbed, and/or beaten by their clients. A good number of streetwalkers also began their prostitution careers as runaway teenagers and were abused as children.
In contrast, indoor workers begin their trade when they were older and are less likely to have been abused as children. Their working conditions are much better than those for streetwalkers, they are less likely to be addicted to drugs and to have STDs, they are better paid, and they are much less likely to be victimized by their clients. Studies that compare indoor prostitutes with nonprostitutes find that they have similar levels of self-esteem, physical health, and mental health. Many indoor prostitutes even report a rise in self-esteem after they begin their indoor work (Weitzer, 2012).
Explaining Prostitution
By definition, prostitution involves the selling of sex. This means that money is the key feature of prostitution. As such, money is also the major motivation for women who become prostitutes, as most of them come from low-income backgrounds. For indoor workers, and especially call girls, prostitution is a potentially well-paying occupation. Streetwalkers hardly get rich from prostitution and suffer the many problems listed earlier, but prostitution still provides them a source of income that they are unlikely to receive through legal occupations because they have few marketable job skills.
Despite this financial motivation, most women do not become prostitutes, and scholars have tried to understand why some women do so. Because prostitutes are not eager to be studied, as noted earlier, we do not yet have studies of random samples of prostitutes, and probably never will have such studies. As also noted earlier, most studies of prostitutes involve streetwalkers, even though they compose only about 20 percent of all prostitutes. Several of these studies cite high rates of child abuse in the backgrounds of streetwalkers, but other studies find that their rates of child abuse are similar to those of women from similar sociodemographic backgrounds who are not prostitutes (Weitzer, 2009). Although some studies find certain psychological problems among streetwalkers, it is unclear whether these problems existed before they became streetwalkers or developed (as is very possible) after they became streetwalkers. Methodologically, the best way to clarify this causal question would be to randomly assign young women to become prostitutes or not to become prostitutes, and then to study what happens to their psychological health afterward. For many reasons, this type of study would be highly unethical and will never be done. In the absence of studies of this type, it is difficult to determine what exactly prompts some women to become prostitutes.
Customers
There is an old saying that "it takes two to tango." Prostitution obviously cannot occur unless a customer wants to pay for the services of a prostitute. Despite this essential fact of prostitution, there are very few studies of why men choose to become customers. The implicit message from this lack of studies is that it is normal for men to have sex with a prostitute but abnormal for women to charge these men for this sex. The few studies we do have do not find any substantial differences between customers and noncustomers (Weitzer, 2009). Just as men come from various social backgrounds, so do the men who choose to have sex with a prostitute.
Customers do have certain motivations for choosing to pay for prostitution (Weitzer, 2009). These motivations include (1) the desire to have sex with someone with a certain physical appearance (age, race, body type); (2) the lack of a sexual partner or dissatisfaction with a sexual partner, including a desire to have unconventional sex that the partner does not share; (3) the thrill of having sex with a prostitute; and (4) the desire to have sex without having to make an emotional commitment. Although one or more of these motivations may be necessary for a man's decision to seek prostitution, they do not entirely explain this decision. For example, many men may not have a sexual partner or may be dissatisfied with a partner they do have, but they still do not decide to pay for a prostitute.
Sociological Perspectives
Beyond explaining why individual women and men are more likely than others to pay for sex or to receive pay for sex, the three sociological perspectives outlined in Chapter 1 "Understanding Social Problems"—functionalist theory, conflict theory, and symbolic interactionism—offer more general insights on prostitution. Table 9.5 "Theory Snapshot" provides a summary of these insights.
Table 9.5 Theory Snapshot
| Theoretical perspective | Contributions to understanding prostitution |
| --- | --- |
| Functionalism | Prostitution is functional for several parties in society. It provides prostitutes a source of income, and it provides a sexual alternative for men who lack a sexual partner or are dissatisfied with their current sexual partner. According to Kingsley Davis, prostitution also helps keep the divorce rate lower than it would be if prostitution did not exist. |
| Conflict theory | Prostitution arises from women's poverty in a patriarchal society. It also reflects the continuing cultural treatment of women as sex objects who exist for men's pleasure. |
| Symbolic interactionism | Prostitutes and their customers have various understandings of their behavior that help them justify why they engage in this behavior. Many prostitutes believe they are performing an important service for their customers, and this belief is perhaps more common among indoor prostitutes than among street prostitutes. |
According to functionalist theory, prostitution exists because it serves several important functions for society generally and for certain people in society. As we have already mentioned, it provides a source of income for many women who otherwise might be jobless, and it provides a sexual alternative for men with the motivations listed earlier. Almost eight decades ago, sociologist Kingsley Davis (1937) wrote that prostitution even lowers the divorce rate. He reasoned that many married men are unhappy with their sex life with their wives. If they do not think this situation can improve, some men start an affair with another woman and may fall in love with that woman, threatening these men's marriages. Other men turn to a prostitute. Because prostitution is generally impersonal, these men do not fall in love with their prostitutes, and their marriages are not threatened. Without prostitution, then, more men would have affairs, and more divorces would result. Although Davis's hypothesis is provocative, there are no adequate studies to test it.
According to conflict theory, prostitution reflects the economic inequality in society. Many poor women feel compelled to become prostitutes because of their lack of money; because wealthier women have many other sources of income, the idea of becoming a prostitute is something they never have to consider. Sad but interesting historical support for this view comes from an increase in prostitution in the second half of the nineteenth century. Many women lost husbands and boyfriends in the war and were left penniless. Lacking formal education and living in a society that at the time offered few job opportunities to women, many of these bereaved women were forced to turn to prostitution to feed their families and themselves. As American cities grew rapidly during the last decades of the nineteenth century, thousands of immigrant women and other poor women also turned to prostitution as a needed source of income (Rosen, 1983). This late nineteenth-century increase in prostitution, then, occurred because of women's poverty.
According to the feminist version of conflict theory, prostitution results not only from women's poverty but also from society's patriarchal culture that still views men as the dominant figure in heterosexual relationships and that still treats women as "sex objects" who exist for men's pleasure (Barry, 1996). In such a culture, it is no surprise and even inevitable that men will want to pay for sex with a woman and that women will be willing to be paid for sex. In this feminist view, the oppression and exploitation that prostitution inherently involves reflects the more general oppression and exploitation of women in the larger society.
Symbolic interactionism moves away from these larger issues to examine the everyday understandings that prostitutes and their customers have about their behavior. These understandings help both prostitutes and customers justify their behavior. Many prostitutes, for example, believe they are performing an important service for the men who pay them. Indoor prostitutes are perhaps especially likely to feel they are helping their customers by providing them not only sex but also companionship (Weitzer, 2009). A woman who owned a massage parlor named "The Classic Touch" echoed this view. Her business employed fourteen women who masturbated their customers and offered a senior citizen discount. The owner reasoned that her employees were performing an important service: "We have many senior citizens and handicapped people. We have some men who are impotent and others who are divorced or in bad marriages. This is a safe, AIDS-free environment…that helps marriages. Husbands come in here and get a stress release and then they are able to go home and take on more. These are men who aren't in bars picking up strange women" (Ordway, 1995, p. 1).
Dealing with Prostitution
With prostitution, past is once again prologue. It has existed since ancient times, and it has continued throughout the United States long since prostitution was banned by the United States in 1920. The legal brothels that now exist in rural counties in Nevada are the exception in this nation, not the rule. Yet prostitution is common outside of Nevada, and thousands of arrests occur nationwide for it.
As with illegal drugs (see Chapter 7 "Alcohol and Other Drugs"), as we think about how to deal with prostitution, we should consider both a philosophical question and a social science question (Meier & Geis, 2007). The philosophical question is whether two people should be allowed to engage in a behavior, in this case prostitution, in which both want to participate. Many people may dislike this behavior for various reasons, but is that sufficient justification for the behavior to be banned if both people (let's assume they are legal adults) want to engage in it? In this regard, and without at all meaning to equate prostitution with same-sex sexual behavior, an analogy with homosexuality is worth considering. Homosexual sex used to be illegal because many people thought it was immoral. When the US Supreme Court finally invalidated all laws against homosexual sex in its 2003 case, Lawrence v. Texas, the majority opinion declared that "the fact that a State's governing majority has traditionally viewed a particular practice as immoral is not a sufficient reason for upholding a law prohibiting the practice." It further asserted, "The petitioners are entitled to respect for their private lives. The State cannot demean their existence or control their destiny by making their private sexual conduct a crime. Their right to liberty under the Due Process Clause gives them the full right to engage in their conduct without intervention of the government." Although the majority opinion specifically said its decision did not apply to prostitution, a reasonable argument may be made that respect for privacy of consensual sexual conduct also means that prostitution, too, should be legal.
Here it may be argued that prostitution still victimizes and objectifies women even if they want to engage in it. This is a reasonable argument, but there are many occupations that victimize employees, either because the occupations are dangerous (such as coal mining and construction work) or because the job requirements objectify women as sex objects (such as fashion modeling and cheerleading). Because hardly anyone would say these occupations should be illegal, is it logical to say that prostitution should be illegal? Former US Surgeon General Joycelyn Elders thinks it makes no sense to ban prostitution simply because it objectifies women: "Why are we so upset about sex workers selling sexual acts to consenting adults?" she asks. "We say that they are selling their bodies, but how different is that from what athletes do? They're selling their bodies. Models? They're selling their bodies. Actors? They're selling their bodies" (McCaslin, 1999, p. A8).
The social science question concerning laws against prostitution is whether these laws do more good than harm, or more harm than good. If they do more good than harm, they should be maintained and even strengthened; if they do more harm than good, they should be repealed. A growing number of scholars believe that the laws against prostitution do more harm than good, and they say that the best way to deal with prostitution might be to legalize and regulate it (Weitzer, 2011).
Proponents of legalization argue as follows. Although many people cite the horrible lives of many streetwalkers as a major reason for their support of laws against prostitution, these laws ironically cause the problems that streetwalkers experience (Weitzer, 2011). When US prostitution was legal a century ago in brothels across the nation, brothel prostitutes were safer than streetwalkers are now. Prostitutes working today in Nevada's legal brothels are safer than streetwalkers. Whatever we might think of their behavior, legal brothel workers are relatively safe from being robbed, beaten, or raped, and their required regular medical exams leave them relatively free of sexually transmitted disease. The health problems and criminal victimization that many streetwalkers experience happen because their behavior is illegal, and legalizing and regulating prostitution would reduce these problems (Weitzer, 2011).
In this regard, legalization of prostitution is yet another harm reduction approach to a social problem. As Weitzer (2012, p. 227) observes, "Research suggests that, under the right conditions, legal prostitution can be organized in a way that increases workers' health, safety, and job satisfaction. Mandatory condom use and other safe-sex practices are typical in legal brothels, and the workers face much lower risk of abuse from customers."
Legalization of prostitution would also yield a considerable amount of tax revenue, as is now true in Nevada. Let's assume that 50 million acts of prostitution occur annually in the United States, to cite our earlier estimate that is probably too low, and that each of these acts costs an average $30. Putting these numbers together, prostitutes receive $1.5 billion annually in income. If they paid about one-third of this amount (admittedly a rough estimate) in payroll taxes, the revenue of state and federal governments would increase by $500 million. Because the tens of thousands of arrests for prostitution and commercialized vice annually would reduce significantly if prostitution were legalized, the considerable financial savings from this reduction could be used for other pursuits.
Legalizing prostitution would add the United States to the lengthy list of other Western democracies that have already legalized it. Although their models of legalization vary, the available evidence indicates that legalizing prostitution does, in fact, reduce the many problems now associated with illegal prostitution (see Note 9.25 "Lessons from Other Societies").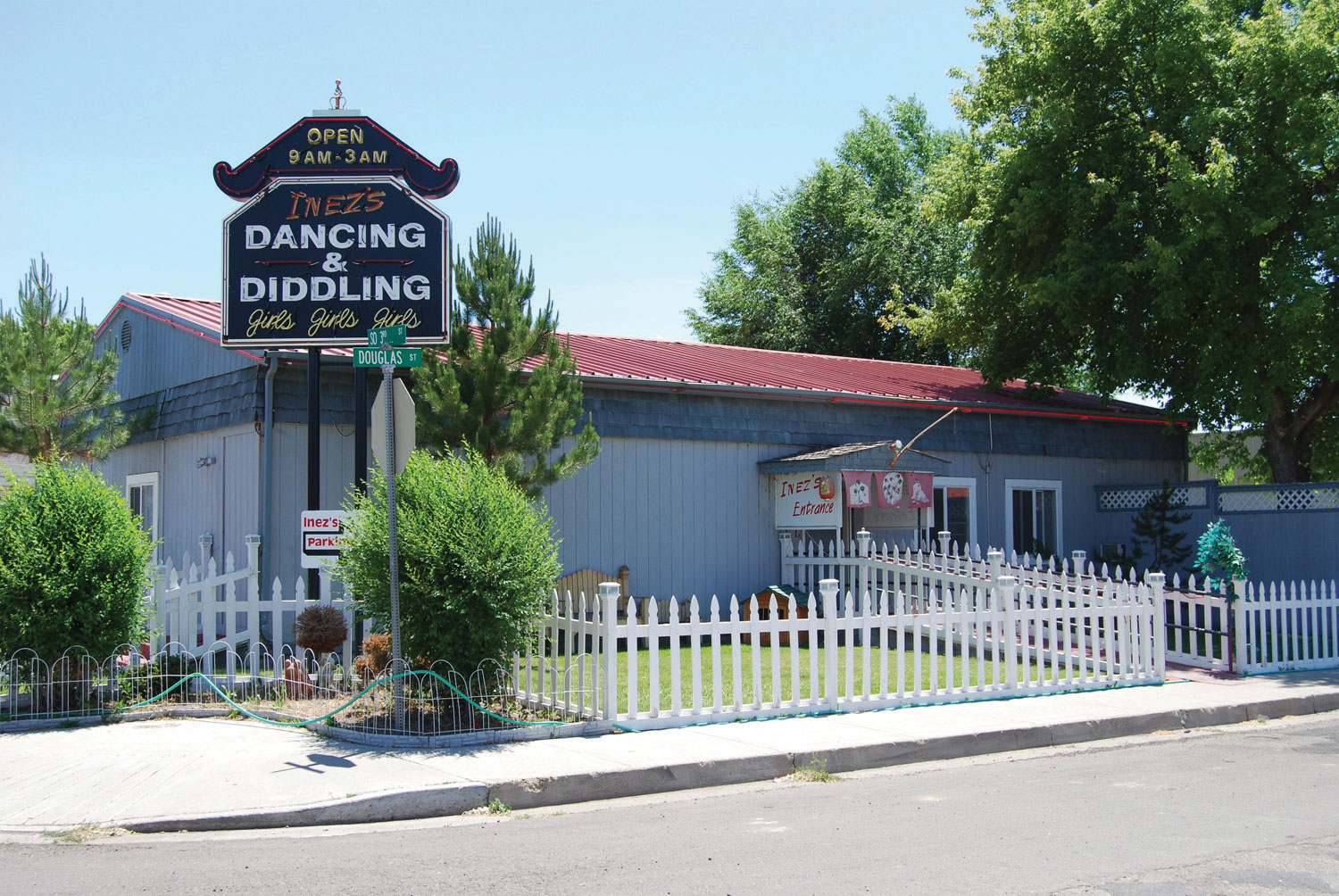 Workers in legal brothels are relatively safe from victimization by customers and from the risk of incurring and transmitting sexual diseases.
Lessons from Other Societies
Legal Brothels in Other Western Democracies
In many other Western democracies, prostitution is legal to varying degrees that depend on the specific nation. In some nations, streetwalking is permitted, but in other nations, only brothels are permitted.
The legal brothel model is what the United States had a century ago and has today only in rural Nevada. As in Nevada, other nations that permit legal brothels usually require regular health exams and the use of condoms to prevent the transmission of sexual diseases. They also license the brothels so that the brothels must fulfill various standards, including the safe-sex practices just mentioned, to receive a license. In addition, brothels must pay taxes on their revenues, and brothel workers must pay taxes on their incomes.
As in rural Nevada, brothel workers in these other nations are unlikely to be abused by their customers. A major reason for their relative safety is that they work indoors and that any abuse by customers might be heard or witnessed by someone else inside the brothel. In addition, brothels in many nations have implemented certain measures to ensure workers' safety, including the provision of panic buttons, the use of listening devices, and screening of customers when they enter the brothel.
A report by the Ministry of Justice in the Netherlands, where legal brothels operate, has concluded that most brothel workers say that they feel safe. A government report in New Zealand, which legalized prostitution in 2003, concluded that legalization made it more likely that prostitutes report any problems to the police and also increased their self-esteem because their behavior was now legal. A government commission in Australia that evaluated legal brothels in the northeastern state of Queensland concluded, "There is no doubt that licensed brothels provide the safest working environment for sex workers in Queensland…Legal brothels now powering in Queensland provide a sustainable model for a healthy, crime-free, and safe legal licensed brothel industry."
Assessing all these nations' experiences, sociologist Ronald Weitzer concluded that "legal prostitution, while no panacea, is not inherently dangerous and can be structured to minimize risks and empower workers." The United States, then, has much to learn from the other Western democracies that have legalized prostitution.
Sources: Weitzer, 2009, 2012
Key Takeaways
Prostitution has existed since ancient times and continues to be common today around the world. The United States had legal brothels before 1920, and legal brothels are found today in rural counties in Nevada.
Many people oppose prostitution because they feel it is immoral or because they feel it degrades and victimizes women. Because prostitution usually involves consensual behavior, some scholars say it should not be illegal in a society that values a right to privacy.
Some scholars also say that laws against prostitution do more harm than good and in particular account for the various problems that streetwalkers experience.
For Your Review
Do you think prostitution should become legal and regulated? Why or why not?
The major difference between prostitution and sex resulting from a casual pickup involves whether money is exchanged. Write an essay in which you first take the "pro" side on the following debate question, and then take the "con" side: that prostitution is worse than sex from a casual pickup.
9.5 Pornography
Learning Objectives
Explain why pornography is difficult to define.
Describe evidence indicating that pornography is popular.
Discuss whether pornography contributes to violence against women.
PornographyPrinted or visual materials that are sexually explicit and that are intended to arouse sexual excitement rather than artistic appreciation. may be defined as printed or visual materials that are sexually explicit and that are intended to arouse sexual excitement rather than artistic appreciation. This definition is fine as far as it goes, but it does raise many questions that underscore the difficulty of dealing with prostitution. For example, how "explicit" must a printed or visual material be for it to be explicit? Is a picture of a woman in a skimpy negligee explicit, or must she be fully unclothed? If a woman in a photo is wearing an evening gown that is very low-cut, is that explicit? If a young male gets aroused by seeing her cleavage, does that make the photo of her pornographic? If two people on network television are obviously beginning to have consensual sex just before a commercial begins (this is network television, after all), is that explicit and arousing enough to constitute pornography? If you answered no to this last question, what if some viewers did find this short portrayal of consensual sex to be explicit and arousing? Is their reaction enough for us to have to conclude that the scene they saw was indeed pornographic? How many people in fact have to find a printed or visual material explicit and arousing for it to be considered pornographic?
These questions suggest that it is not very easy to define pornography after all. Back in the 1950s, young males in the United States would leaf through National Geographic magazine to peek at photos of native women who were partially nude. Those photos, of course, were not put there to excite boys across the country; instead they were there simply to depict native people in their natural habitat. Another magazine began about the same time that also contained photos of nude women. Its name was Playboy, and its photos obviously had a much different purpose: to excite teenage boys and older men alike. Other, more graphic magazines grew in its wake, and today television shows and PG-13 and R-rated movies show more nudity and sex than were ever imaginable in the days when National Geographic was a boy's secret pleasure. Beyond these movies and television shows, a powerful pornography industry now exists on the Internet, in porn stores, and elsewhere. Although Playboy quickly became very controversial, it is considered tame compared to what else is now available.
If things as different as National Geographic, Playboy, R-rated movies, and hard-core pornography show nudity and can be sexually arousing, what, then, should be considered pornography? Are at least some of the tamer pictures in Playboy really that different from the great paintings in art history that depict nude women? This question is not necessarily meant to defend Playboy; rather, it is meant to have you think about what exactly is and is not pornography and what, if anything, our society can and should do about it.
However we define pornography, sexually explicit materials, along with drugs, prostitution, and abortion, have been common since ancient times (Bullough & Bullough, 1977). Archeologists have uncovered sexually explicit drawings, pottery, and other artifacts from China, Greece, Japan, Persia, Peru, and other locations; these artifacts depict sexual organs and sexual behavior. Sexually explicit material appears in much writing left from ancient Greece and ancient Rome. "Vast quantities of material dealing with sex" (Bullough & Bullough, 1977, p. 161) remain from medieval Europe. The huge amount of pornography that exists today represents a centuries-old tradition.
Public Opinion about Pornography
Many people oppose pornography, but two very different groups have been especially outspoken over the years, as has been true about prostitution. One of these groups consists of religious organizations and individuals who condemn pornography as a violation of religious values and as an offense to society's moral order. The other group consists of feminists who condemn pornography for its sexual objectification of women and especially condemn the hard-core pornography that glorifies horrible sexual violence against women. Many feminists also charge that pornography promotes rape by reinforcing the cultural myths discussed earlier. As one writer put it in a famous phrase some thirty years ago, "Pornography is the theory, and rape the practice" (Morgan, 1980, p. 139).
The GSS asks, "Which of these statements comes closest to your feelings about pornography laws: (1) There should be laws against the distribution of pornography whatever the age; (2) There should be laws against the distribution of pornography to persons under 18; or (3) There should be no laws forbidding the distribution of pornography." In 2010, about 31 percent of the public thought that pornography should be illegal for everyone, and 65 percent thought it should be illegal for people under 18; only 4 percent thought there should be no laws against pornography. Adding the last two percentages together, though, 69 percent thought pornography should be legal for everyone 18 and older.
Certain aspects of our social backgrounds predict our views about pornography laws. Two of the strongest predictors are gender and religiosity. Focusing on the percentage who favor laws against pornography regardless of age, there is a strong gender difference in this view (see Figure 9.16 "Gender and Support for Laws against Pornography Regardless of Age (%)"), with women more than twice as likely than men to favor these laws. Religiosity also predicts support for pornography laws regardless of age: People who consider themselves very religious are five times more likely than those who consider themselves not religious to favor these laws (see Figure 9.17 "Self-Rated Religiosity and Support for Laws against Pornography Regardless of Age (%)").
Figure 9.16 Gender and Support for Laws against Pornography Regardless of Age (%)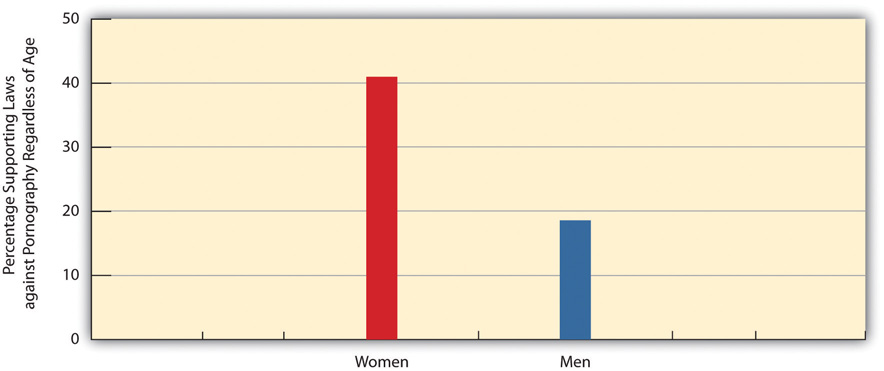 Figure 9.17 Self-Rated Religiosity and Support for Laws against Pornography Regardless of Age (%)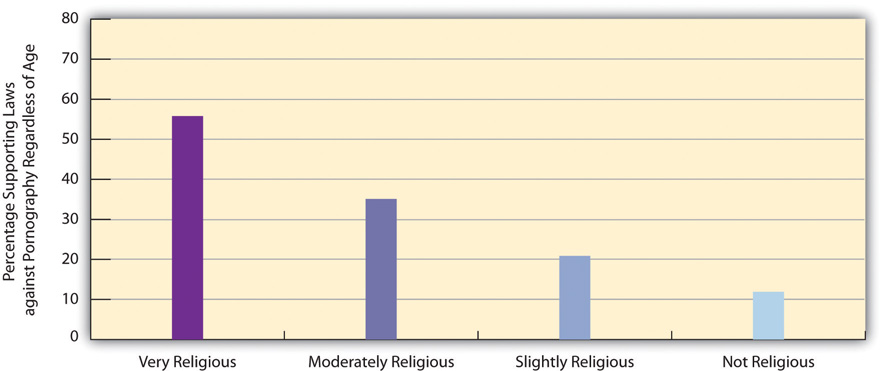 The Popularity of Pornography
Pornography is so widespread and easy to access on the Internet and elsewhere that many people must be viewing it, reading it, and in general "using" it. Various data and estimates for the United States support this assumption (Diamond, 2009; Family Safe Media, 2011). For example, pornography revenues amount to more than $13 billion annually (from the sale and rental of adult DVDs, the viewing of pornographic Internet sites, the purchase of adult videos on cable and in hotel rooms, payments for phone sex, visits in exotic dance clubs, the purchase of sexually explicit novelties, and subscriptions to and the purchase of sexually explicit magazines). An estimated 12 percent of all websites are pornographic. In addition, about 40 percent of Americans visit pornographic sites on the Internet at least monthly, and, according to the GSS, one-fourth of Americans, or almost 60 million adults, have seen an X-rated movie in the past year.
We saw earlier that gender and religiosity predict views about pornography laws. As you might expect, they also predict X-rated movie viewing. Men are more than twice as likely as women to have seen an X-rated movie in the past year (see Figure 9.18 "Gender and Viewing of X-Rated Movie in Past Year (Percentage Seeing a Movie at Least Once)"), while very religious people are only about one-third as likely as those who are not religious to have seen an X-rated movie.
Figure 9.18 Gender and Viewing of X-Rated Movie in Past Year (Percentage Seeing a Movie at Least Once)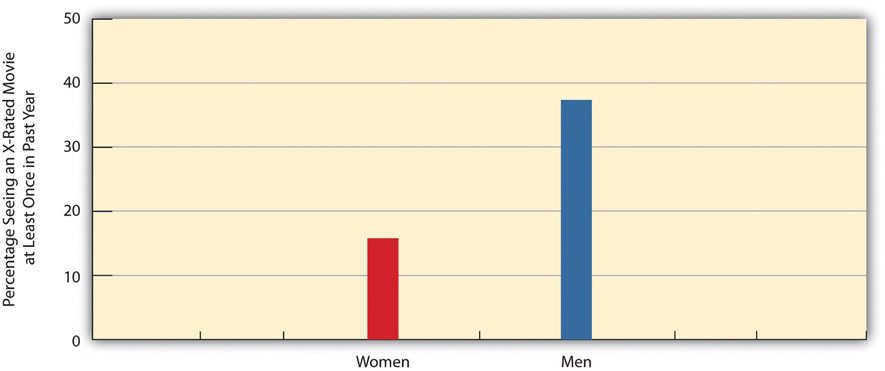 Figure 9.19 Self-Rated Religiosity and Viewing of X-Rated Movie in Past Year (Percentage Seeing a Movie at Least Once)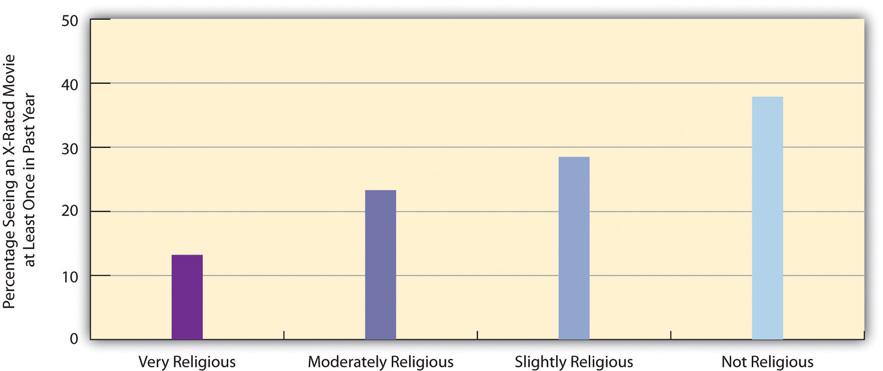 Effects of Pornography
Many feminists and other people oppose pornography because they believe it causes rape or other violence against women. This belief raises an important question: To what extent does pornography in fact cause such violence? The fairest answer might be that we do not really know. Many scholars believe pornography does cause violence against women, but other scholars conclude that pornography does not have this effect and may even help reduce sexual violence by providing a sexual outlet for men (Diamond, 2009; Weitzer, 2011).
These divergent views reflect the complexity of the evidence from studies of pornography. Many studies do conclude that pornography causes rape. For example, male students who watch violent pornography in experiments later exhibit more hostile attitudes toward women than those watching consensual sex or nonsexual interaction. However, it remains doubtful that viewing pornography in real life has a longer-term effect that lasts beyond the laboratory setting, and several experimental studies do not even find any short-term effects. In other types of research, rape rates have not risen in the US states that have made their pornography laws more lenient, and states' rape rates are not related to their circulation rates of pornographic magazines. Further, rape rates have declined sharply since the early 1990s even though pornography is much more widely available now than back then thanks to the Internet and other technologies.
A recent review of the research on pornography and rape concluded that pornography does not increase rape (Ferguson & Hartley, 2009, p. 323):
Evidence for a causal relationship between exposure to pornography and sexual aggression is slim and may, at certain times, have been exaggerated by politicians, pressure groups and some social scientists. Some of the debate has focused on violent pornography, but evidence of any negative effects is inconsistent, and violent pornography is comparatively rare in the real world. Victimization rates for rape in the United States demonstrate an inverse relationship between pornography consumption and rape rates. Data from other nations have suggested similar relationships…It is concluded that it is time to discard the hypothesis that pornography contributes to increased sexual assault behavior.
Dealing with Pornography
Whatever pornography is or is not, many people find it disgusting, but many other people are more tolerant of it. In our discussion of prostitution, we examined the issue of whether it is proper for a democracy to ban a consensual behavior simply or mostly because many people consider it immoral. The same question may be asked about pornography (to be more precise, pornography that does not involve children), especially because it does not appear to cause violence against women. Even if it did cause such violence, efforts to stop it raise important issues of freedom of speech and censorship. In a free society, civil liberties advocates say, we must proceed very cautiously. Once we ban some forms of pornography, they ask, where do we stop (Strossen, 2000).
This issue aside, much of what we call pornography still degrades women by depicting them as objects that exist for men's sexual pleasure and by portraying them as legitimate targets of men's sexual violence. These images should be troubling for any society that values gender equality. The extent of pornography in the United States may, for better or worse, reflect our historical commitment to freedom of speech, but it may also reflect our lack of commitment to full equality between women and men. Even if, as we have seen, the survey evidence shows growing disapproval of traditional gender roles, the persistence of pornography shows that our society has a long way to go toward viewing women as equally human as men.
Key Takeaways
Pornography is notoriously difficult to define. Just as beauty is in the eyes of the beholder, to quote the old saying, so is pornography.
Pornography is a major industry in the United States and around the world and accounts for about $13 billon in US revenues annually.
A growing conclusion from the research evidence is that pornography does not lead to violence against women. In addition to this consideration, laws against pornography raise questions of freedom of speech.
For Your Review
Do you think all pornography should be legal for people age eighteen and older? Why or why not?
In your opinion, does pornography promote violence against women? Explain your answer.