Chapter 16

War and Terrorism
Social Problems in the News
"War Crimes Haunt Iraq Vet," the headline said. In the early 2000s, John Milton, a pseudonym, joined the Army and was sent to Iraq. There he served as a medic but was also armed. At age 21, he and five other soldiers were driving one day back from a beer run when a small bomb hit their vehicles. One of the soldiers died instantly, but the others survived and shot the bomber. As the bomber was lying on the ground and needing medical attention, the soldiers began to punch and kick him. Instead of tending to the bomber's injuries, Milton fatally shot him in the head.
In the years since his military service ended, Milton's war crime has haunted him. He continues to have nightmares and cannot get rid of his guilt. He talked with a psychiatrist at a Veterans Administration hospital, but that did not help because the psychiatrist "didn't understand what [he] was talking about." Before he entered the Army, Milton said, he "used to love being around people, but no more." He was thinking of moving from his home in New Jersey to a quieter, emptier state like Montana or Wyoming.
Milton also remembered being ordered to euthanize wounded but treatable Iraqi soldiers, yet another war crime. After he did so several times, he decided he could no longer in good conscience follow those orders. He recalled, "I can still see every one of their faces, individually, exactly what they looked like that day."
Source: Bykofsky, 2012Bykofsky, S. (2012, February 10). War crimes haunt Iraq vet. Philadelphia Daily News. Retrieved from http://www.philly.com/philly/news/20120210_Stu_Bykofsky__War_crimes_haunt_Iraq_vet.html.
Great war novels like The Red Badge of Courage and War and Peace highlight the heroism and horror that both occur on the battlefield. This news story likewise reminds us that war, however heroic, is also horrible. Atrocities happen; soldiers are killed or wounded, physically and/or mentally; and civilians suffer and die. As Sydney H. Schanberg (2005, p. 1),Schanberg, S. H. (2005, May 10). Not a pretty picture. The Village Voice, p. 1. a former New York Times reporter who covered the US wars in Vietnam and Cambodia, has bluntly observed, "'History,' Hegel said, 'is a slaughterhouse.' And war is how the slaughter is carried out."
For much of human history, people considered war a necessary evil that was often waged for noble reasons. World War II, for example, was what we now call "the good war," fought to end Hitler's attempt to conquer much of the world. Millions died on the battlefield, in cities bombed by planes, and in concentration camps before Hitler and his allies were finally defeated.
About two decades after World War II ended, the United States began fighting another war meant to save the world for democracy, but this war was very different from the one against Hitler. This war was fought in Vietnam, and however a noble effort World War II might have been, the Vietnam War was just as ignoble to its critics. It was a war, some said, not to save the world for democracy but to help extend America's power where it did not belong. The war's severest critics called it an act of genocide against Asians. If the World War II generation grew up with a patriotic love for their nation, the Vietnam War generation grew up with much more cynicism about their government and about the military.
Ironically, that generation's concern about the military was shared by none other than President Dwight D. Eisenhower, who warned about the dangers of what he called the military-industrial complexThe close relationships among military leaders, government officials, and defense contractors.—the friendly interplay of the military, the defense industry, and political leaders—in his farewell presidential address (Ledbetter, 2011).Ledbetter, J. (2011). Unwarranted influence: Dwight D. Eisenhower and the military-industrial complex. New Haven, CT: Yale University Press. Eisenhower himself had been a member of the military-industrial complex, having served as a five-star general and supreme commander of the Allied forces in Europe during World War II before becoming president. His military experience made him no fan of warfare; as he once observed, "I hate war as only a soldier who has lived it can, only as one who has seen its brutality, its futility, its stupidity." He also feared that the military-industrial complex was becoming too powerful and gaining "unwarranted influence" over American life as it acted for its own interests and not necessarily for those of the nation as a whole. He warned that the "potential for the disastrous rise of misplaced power exists and will persist" (Eisenhower, 1960).Eisenhower, D. D. (1960). Public papers of the presidents of the United States: Dwight D. Eisenhower. Washington, DC: US Government Printing Office.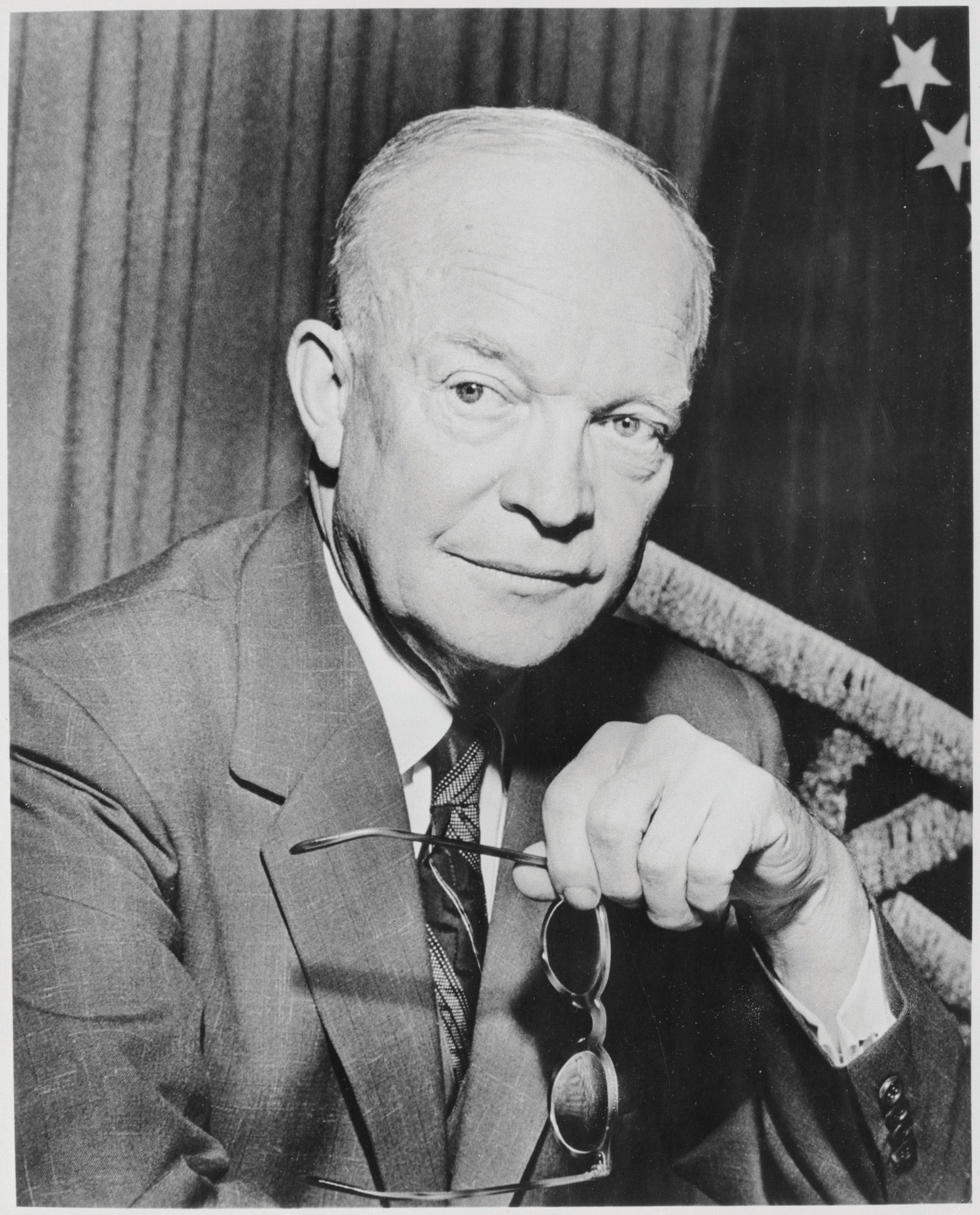 President Dwight D. Eisenhower warned about what he called the "unwarranted influence" of the military-industrial complex.
Eisenhower's fears about the military-industrial complex reflected his more general concern about militarismAn overemphasis on military policy and spending., or an overemphasis on military policy and spending, which he thought was costing the nation far too much money. In a remarkable and now famous statement made early in his presidency, Eisenhower (1960, p. A1) declared, "Every gun that is made, every warship launched, every rocket fired, signifies in the final sense, a theft from those who hunger and are not fed, those who are cold and are not clothed. This world in arms is not spending money alone. It is spending the sweat of its laborers, the genius of its scientists, the hopes of its children. This is not a way of life at all in any true sense. Under the clouds of war, it is humanity hanging on a cross of iron."
Eisenhower's concerns are even more valid today. As the United States and other governments spend hundreds of billions of dollars annually on their militaries, mass death and destruction from war beyond what Eisenhower could have ever imagined are a major concern, and serious social needs go unmet. It is probably trite to say that war profoundly affects societies, but that is precisely why war and the threat of war are considered perhaps the most pressing social problem of our times and a threat to the entire planet.
Terrorism also profoundly affects societies. Yet most Americans probably did not consider terrorism a social problem before September 11, 2001, when, as has often been said, the world changed. On that terrible day, terrorists drove two passenger jets into the World Trade Center in New York and another into the Pentagon; a fourth plane apparently headed for a Washington, DC, target crashed in central Pennsylvania when brave passengers fought back. The shock of the 3,000 deaths that resulted continues to haunt us even as we have become accustomed to homeland security measures in our airports and elsewhere that would have seemed inconceivable a generation ago.
Against this horrific backdrop of the modern era, this chapter examines war and terrorism as the final social problems discussed in this book. As forms of armed conflict that aim to defeat an opponent, war and terrorism have been part of the human experience for thousands of years. However, their manifestation in the contemporary era is particularly frightening, thanks to ever more powerful weapons, such as nuclear arms, that threaten human existence. We consider their causes, dynamics, and consequences before discussing certain actions and policies that might conceivably reduce these threats to peaceful societies and human existence.
16.1 Sociological Perspectives on War and Terrorism
Learning Objective
Summarize the key assumptions and emphases of the functionalist, conflict, and symbolic interactionist perspectives on war and terrorism.
The three major sociological perspectives offer some very different understandings of war and terrorism. You might agree with some of their assumptions and disagree with other assumptions, but together they capture the major dimensions of these two forms of armed conflict. Table 16.1 "Theory Snapshot" summarizes these assumptions.
Table 16.1 Theory Snapshot
| Theoretical perspective | Major assumptions |
| --- | --- |
| Functionalism | War and terrorism serve several important functions. For example, they increase social solidarity as a society unites to defeat a perceived enemy. Some wars have also helped preserve freedom and democracy. |
| Conflict theory | War and militarism primarily advance the interests of the military-industrial complex and take billions of dollars from unmet social needs. |
| Symbolic interactionism | Symbols such as the flag play an important role in marshaling support for war. Definitions of several concepts also play an important role in public opinion regarding war and terrorism. |
Functionalism
Recall that functionalism emphasizes the usefulness of certain behaviors and social institutions for many aspects of society. One of functionalism's most important insights is that social problems might actually be useful in this way, however many difficulties they might otherwise cause. To use an example from Chapter 1 "Understanding Social Problems", crime certainly causes many problems, but it also creates hundreds of thousands of jobs in law enforcement, courts and corrections, home security, and other sectors of the economy that deal with crime.
In this spirit, functionalism similarly emphasizes the ways in which war and terrorism are useful for society, however horrible they are in so many other ways. Perhaps the first sociologist to make this point for war was Robert E. Park, the 1925 president of the American Sociological Association (which was then called the American Sociological Society—a name that was later changed because of its acronym!). In January 1941, less than a year before the bombing of Pearl Harbor, Park published an influential essay called "The Social Function of War: Observations and Notes," in a leading sociology journal (Park, 1941).
Park's essay outlined several functions of war. First, war helps resolve international disputes over matters such as territorial boundaries and religious and other ideologies. No matter what one might think of war, historically it has resolved disputes between nations, with the winner of the war winning the dispute. Even though very few people would say that war is a preferred method for resolving a dispute, it still has performed this function.
Second, war generates a stronger sense of social bonding and solidarity within the societies that are at war. Having a common enemy, people within a society at war "come together" with a shared purpose and feel more united and patriotic than before. This dynamic is called the external conflict/internal cohesion process (Markides & Cohn, 1982). Although Park did not discuss terrorism, this form of armed conflict can also create social solidarity. In the days and weeks after 9/11, Americans came together as one people, and the president of France famously said, "We are all Americans."
Third, wars many centuries ago, such as those in which ancient Rome in essence formed and grew from conquering various tribes, led to the development of the nation-state as a political institution. As these tribes came under the rule of nation-states, their separate tribal identities weakened as they gradually identified themselves as one people belonging to their nation-state; Park (p. 569) referred to this process as "the coming-together and integration of races and peoples." Moreover, the size and resources of these nation-states allowed them to generate scientific, cultural, and political advances that played an important role in world history. War, then, indirectly contributed to these advances. Although nation-states still might have eventually developed even without war, their development was accelerated by war.
Other functions of war can also be cited. Some wars, including the American colonists' war against England and the Allies' war against Hitler and Japan, have helped maintain and establish freedom and democracy. In the past and also today, war and military service have also provided important opportunities for jobs and career advancement for people of color and women. Related to this, the US military provides millions of jobs annually and is a ready form of employment for people who only have a high school education. More generally, the military and the defense industry are certainly important components of the US economy, and military spending in some eras has helped stimulate the US economy. In perhaps the most notable example of this effect, spending for World War II is commonly credited with helping to lift the United States out of the Great Depression (Shiller, 2012).
In a final function, weapons research and other types of military research have contributed to scientific and technological development in general. For example, military research played a key role in the early development of the Internet.
Conflict Theory
Conflict theory's perspective on war and the military is decidedly more negative than that of functionalism. There are actually many different views within conflict theory about war and the military, but three related views stand out. The first view echoes President Eisenhower's concern over the power and influence of the military-industrial complex. According to conflict theory, the United States spends so much on the military and even goes to war because military officials, defense contractors, and political leaders work hand-in-hand in a rather cozy relationship. Although they may profess that their actions are meant to keep the nation safe, their ultimate goal is to enhance their political power and financial well-being.
The most famous critique of the military-industrial complex from a conflict theorist is undoubtedly that of sociologist C. Wright Mills in his book The Power Elite (1956). According to Mills, the power eliteC. Wright Mills's term for the government, big business, and the military, which he said collaborate to advance their own interests. is composed of government, big business, and the military, which together constitute a ruling class that controls society and works for its own interests, not for the interests of the citizenry. Members of the power elite, Mills said, see each other socially and serve together on the boards of directors of corporations, charitable organizations, and other bodies. When cabinet members, senators, and top generals and other military officials retire, they often become corporate executives; military officials in particular join defense contractors. Conversely, corporate executives often become cabinet members and other key political appointees, and defense industry executives often end up in the Pentagon. This circulation of the elites creates a rather cozy relationship that helps ensure their dominance over American life and in particular ensures that the military-industrial complex has an untold influence over economic and foreign policy.
A more recent critique of the military-industrial complex and foreign policy by sociologist Mark C. Worrell (2011, p. 51) bluntly stresses the role played by the desire for corporate profits: "War is business and it is profitable…What we learned in the aftermath of World War II is that mass destruction is great for corporate profits…War is driven by corporate profits and corporations drive politics." According to Worrell and other contemporary critics of what they call the warfare state, the United States now has a permanent war economy. In their view, the war on terrorism after 9/11 and the wars in Iraq and Afghanistan "have only deepened the trend toward ever more concentrated state, corporate, and military power in a society that ostensibly embraces democratic values" (Boggs, 2011, p. ix).
The second view of conflict theory concerns imperialismThe use of military power and other means to extend a nation's influence and control over other nations., or the use of military power and other means to extend a nation's influence and control over other nations. This view, held by the more radical proponents of conflict theory, argues that war and other military ventures by the United States are done for the sake of imperialism rather than for noble goals such as the preservation and extension of democracy. In this view, the United States wages war and engages in other military actions to gain access to oil and other resources of other societies, with the ultimate aim of enriching multinational corporations and other parties. The characterization does not hold true for World War II, conflict theorists concede, but they argue it holds true for many and perhaps most other US wars and military actions, historically and today. In their view, the wars in Iraq and Afghanistan in particular were fought under false pretenses to maintain adequate oil supply and more generally to extend America's military and economic influence around the world (Worrell, 2011).
A third view of conflict theory criticizes the size of the military budget and emphasizes the billions of dollars it takes from social needs such as poverty and climate change. As sociologist Carl Boggs (2011, p. 17) argues, "The war economy, for its part, devours roughly one trillion dollars in material, technological, and human resources yearly…, ensuring a pattern of waste, destruction, uneven development, eroded public infrastructures, and decimated social programs. Decaying American cities have become a supreme legacy of the warfare system." We return to this issue later in this chapter.
Symbolic Interactionism
Symbolic interactionist writing on war features several emphases. One theme concerns the perceptions and experiences of people involved in war: soldiers, civilians, and others. There are many moving accounts, for example, both real and fictitious, of soldiers' life on the battlefield and after they come home from war.
Figure 16.1 International Peace Symbol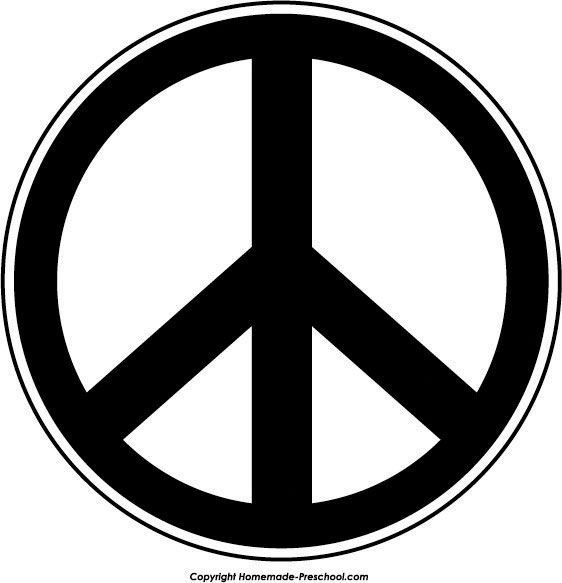 A second emphasis concerns the use of symbols to marshal support for war or protest against war. Symbols such as the flag evoke feelings of patriotism, perhaps especially when a nation is at war. The president and other politicians typically display a flag when they give major speeches, and it would be unthinkable for a flag not to be showing when the speech is about war or the threat of war. During the Vietnam War, protesters sometimes flew the US flag upside-down (the international symbol of distress) to show their hatred of the war, and some protesters also burned the flag—an act that is almost guaranteed to provoke outrage and hostility from onlookers.
Other symbols can also be important. When the United States invaded Iraq in March 2003, millions of Americans put magnetic yellow ribbons on their cars, SUVs, and pickup trucks to show their support for the troops. The largest manufacturer of the ribbons sold more than one million monthly a year after the war began. However, sales slipped as support for the war declined, and four years after the war numbered only 4,000 monthly (Ward, 2007). Another ubiquitous symbol during the Vietnam War was the so-called international peace symbol (see Figure 16.1 "International Peace Symbol"), originally designed in the late 1950s to symbolize concern over nuclear weapons. Vietnam War protesters wore this symbol on their clothing, and many put peace symbol decals on their motor vehicles, book bags, and other possessions.
A third emphasis of symbolic interactionism concerns how concepts related to war and terrorism come to be defined in ways that advance the goals of various parties. For example, a key goal of the military in basic training is to convince trainees that people they may face on the battlefield are the enemy and, as such, an appropriate target for killing. Related to this goal is the need to convince trainees that when they kill an enemy soldier, the killing is a justified killing and not murder. Similarly, the military often refers to civilian deaths or wounding as collateral damage in a conscious or unconscious attempt to minimize public horror at civilian casualties.
Another definitional issue concerns terrorism. As we shall discuss later, the definition of terrorism is very subjective, as actions that some people might regard as terrorism might be regarded by other people as freedom fighting or some other much more positive term than terrorism.
With this theoretical background in mind, we now turn to several issues and problems of war and terrorism.
Key Takeaways
War and terrorism serve several functions, including the creation of social solidarity.
According to conflict theory, war advances the interests of the military-industrial complex, while militarism takes money away from unmet social needs.
Symbolic interactionism emphasizes the importance of symbols in support for war and terrorism and the experience of civilians and veterans as victims of war.
For Your Review
Which one of the three perspectives on war and terrorism do you most favor? Why?
Why do you think the flag has so much symbolic importance in American society?
16.3 Terrorism
Terrorism is hardly a new phenomenon, but Americans became horrifyingly familiar with it on September 11, 2001. The 9/11 attacks remain in the nation's consciousness, and many readers may know someone who died on that terrible day. The attacks also spawned a vast national security network that now reaches into almost every aspect of American life. This network is so secretive, so huge, and so expensive that no one really knows precisely how large it is or how much it costs (Priest & Arkin, 2010). However, it is thought to include 1,200 government organizations, 1,900 private companies, and almost 900,000 people with security clearances (Applebaum, 2011). The United States has spent an estimated $3 trillion since 9/11 on the war on terrorism, including more than $1 trillion on the wars in Iraq and Afghanistan whose relevance for terrorism has been sharply questioned. Questions of how best to deal with terrorism continue to be debated, and there are few, if any, easy answers to these questions.
Not surprisingly, sociologists and other scholars have written many articles and books about terrorism. This section draws on their work to discuss the definition of terrorism, the major types of terrorism, explanations for terrorism, and strategies for dealing with terrorism. An understanding of all these issues is essential to make sense of the concern and controversy about terrorism that exists throughout the world today.
16.4 Preventing War and Stopping Terrorism
Learning Objectives
Outline approaches that show promise for preventing war.
Understand the differences between the law enforcement and structural-reform approaches to preventing terrorism.
War has existed since prehistoric times, and terrorism goes back at least to the days of the Old Testament (e.g., when Samson brought down the temple of the Philistines in an act of suicide that also killed scores of Philistines). Given their long histories, war and terrorism are not easy to prevent. However, theory and research by sociologists and other social scientists point to several avenues that may ultimately help make the world more peaceful.
Preventing War
The usual strategies suggested by political scientists and international relations experts to prevent war include arms control and diplomacy. Approaches to arms control and diplomacy vary in their actual and potential effectiveness. The historical and research literatures on these approaches are vast (Daase & Meier, 2012; Garcia, 2012) and beyond the scope of this chapter. Regardless of the specific approaches taken, suffice it here to say that arms control and diplomacy will always remain essential strategies to prevent war, especially in the nuclear age when humanity is only minutes away from possible destruction.
Beyond these two essential strategies, the roots of war must also be addressed. As discussed earlier, war is a social, not biological, phenomenon and arises from decisions by political and military leaders to go to war. There is ample evidence that deceit accompanies many of these decisions, as leaders go to many wars for less than noble purposes. To the extent this is true, citizens must always be ready to question any rationales given for war, and a free press in a democracy must exercise eternal vigilance in reporting on these rationales. According to critics, the press and the public were far too acquiescent in the decision to go to war in Iraq in 2003, just as they had been acquiescent a generation earlier when the Vietnam War began being waged (Solomon, 2006). To prevent war, then, the press and the public must always be ready to question assumptions about the necessity of war. The same readiness should occur in regard to militarism and the size of the military budget.
In this regard, history shows that social movements can help prevent or end armament and war and limit the unchecked use of military power once war has begun (Breyman, 2001; Staggenborg, 2010). While activism is no guarantee of success, responsible nonviolent protest against war and militarism provides an important vehicle for preventing war or for more quickly ending a war once it has begun.
People Making a Difference
Speaking Truth to Power
The American Friends Service Committee (AFSC) is a Quaker organization that has long worked for peace and social justice. Its national office is in Philadelphia, Pennsylvania, and it has local offices in more than thirty other US cities and also in more than a dozen other nations.
AFSC was established in 1917 to help conscientious objectors serve their country in nonmilitary ways during World War I. After that war ended with the defeat of Germany and Austria, AFSC provided food to thousands of German and Austrian children. It helped Jewish refugees after Hitler came to power, and sent various forms of aid to Japan after World War II ended. During the 1960s, it provided nonviolence training for civil rights activists and took a leading role in the movement to end the Vietnam War. Since the 1960s, AFSC has provided various types of help to immigrants, migrant workers, prisoners, and other "have-not" groups in need of social justice. It also works to achieve nonviolent conflict resolution in urban communities and spoke out against plans to begin war in Iraq in 2003.
In 1947, AFSC and its British counterpart won the Nobel Peace Prize for their aid to hungry children and other Europeans during and after World Wars I and II. The Nobel committee proclaimed in part, "The Quakers have shown us that it is possible to carry into action something which is deeply rooted in the minds of many: sympathy with others; the desire to help others…without regard to nationality or race; feelings which, when carried into deeds, must provide the foundations of a lasting peace."
For almost a century, the American Friends Service Committee has been active in many ways to achieve a more just, peaceable world. It deserves the world's thanks for helping to make a difference. For further information, visit http://www.afsc.org.
As we think about how to prevent war, we must not forget two important types of changes that create pressures for war: population change and environmental change. Effective efforts to reduce population growth in the areas of the world where it is far too rapid will yield many benefits, but one of these is a lower likelihood that certain societies will go to war. Effective efforts to address climate change will also yield many benefits, and one of these is also a lower likelihood of war and ethnic conflict in certain parts of the world.
Finally, efforts to prevent war must keep in mind the fact that ideological differences and prejudice sometimes motivate decisions to go to war. It might sound rather idealistic to say that governments and their citizenries should respect ideological differences and not be prejudiced toward people who hold different religious or other ideologies or have different ethnic backgrounds. However, any efforts by international bodies, such as the United Nations, to achieve greater understanding along these lines will limit the potential for war and other armed conflict. The same potential holds true for efforts to increase educational attainment within the United States and other industrial nations but especially within poor nations. Because prejudice generally declines as education increases, measures that raise educational attainment promise to reduce the potential for armed conflict in addition to the other benefits of increased education.
In addition to these various strategies to prevent war, it is also vital to reduce the size of the US military budget. Defense analysts who think this budget is too high have proposed specific cuts in weapons systems that are not needed and in military personnel at home and abroad who are not needed (Arquilla & Fogelson-Lubliner, 2011; Knight, 2011; Sustainable Defense Task Force, 2010). Making these cuts would save the nation from $100 billion to $150 billion annually without at all endangering national security. This large sum could then be spent to help meet the nation's many unmet domestic needs.
Stopping Terrorism
Because of 9/11 and other transnational terrorism, most analyses of "stopping terrorism" focus on this specific type. Traditional efforts to stop transnational terrorism take two forms (White, 2012). The first strategy involves attempts to capture known terrorists and to destroy their camps and facilities and is commonly called a law enforcement or military approach. The second strategy stems from the recognition of the structural roots of terrorism just described and is often called a structural-reform approach. Each approach has many advocates among terrorism experts, and each approach has many critics.
Law enforcement and military efforts have been known to weaken terrorist forces, but terrorist groups have persisted despite these measures. Worse yet, these measures may ironically inspire terrorists to commit further terrorism and increase public support for their cause. Critics also worry that the military approach endangers civil liberties, as the debate over the US response to terrorism since 9/11 so vividly illustrates (Cole & Lobel, 2007). This debate took an interesting turn in late 2010 amid the increasing use of airport scanners that generate body images. Many people criticized the scanning as an invasion of privacy, and they also criticized the invasiveness of the "pat-down" searches that were used for people who chose not to be scanned (Reinberg, 2010).
In view of all these problems, many terrorism experts instead favor the structural-reform approach, which they say can reduce terrorism by improving or eliminating the conditions that give rise to the discontent that leads individuals to commit terrorism. Here again the assessment of the heads of the 9/11 Commission illustrates this view: "We must use all the tools of U.S. power—including foreign aid, educational assistance and vigorous public diplomacy that emphasizes scholarship, libraries and exchange programs—to shape a Middle East and a Muslim world that are less hostile to our interests and values. America's long-term security relies on being viewed not as a threat but as a source of opportunity and hope" (Kean & Hamilton, 2007, p. B1).
Although there are no easy solutions to transnational terrorism, then, efforts to stop this form of terrorism must not neglect its structural roots. As long as these roots persist, new terrorists will come along to replace any terrorists who are captured or killed. Such recognition of the ultimate causes of transnational terrorism is thus essential for the creation of a more peaceable world.
Key Takeaways
Arms control and diplomacy remain essential strategies for stopping war, but the roots of war must also be addressed.
The law enforcement/military approach to countering terrorism may weaken terrorist groups, but it also may increase their will to fight and popular support for their cause and endanger civil liberties.
For Your Review
Do you think deceit was involved in the decision of the United States to go to war against Iraq in 2003? Why or why not?
Which means of countering terrorism do you prefer more, the law enforcement/military approach or the structural-reform approach? Explain your answer.