2.2

Sales Channels and Environments: Where You Can Put Your Selling Skills to Work
Learning Objective
Understand the different types of selling channels and selling environments.
If you had an accident and broke your leg, you would go to an orthopedic surgeon to have a cast put on it. However, if you had a skin rash you would go to a dermatologist to get relief and clear up the rash. Several doctors may have a role in helping you manage your health, so it makes sense that not all doctors conduct the same procedures. Some perform surgery and others diagnose, monitor, and recommend tests or further steps. Just as doctors play different roles in the health care field, the same is true for salespeople in the business arena. Different people perform different functions in the selling process.
Is It B2B or B2C?
There are two major distribution channelsAn organization or group of organizations involved in the process of making product or services available to customers., or organizations or group of organizations involved in the process of making products and services available to customers in which personal selling is conducted.Barton A. Weitz, Stephen B. Castleberry, and John F. Tanner, Jr., Selling: Building Partnerships, 7th ed. (New York: McGraw-Hill Irwin), 10. Personal selling involves communication between a customer and a salesperson with the intention of providing information for the customer to make a buying decision. Business-to-businessBusinesses selling products or services to other businesses. (also referred to as B2B) is when businesses sell products or services to other businesses for consumption by the ultimate consumer. For example, Whirlpool sells washers and dryers to Sears and makes them to the specifications determined by Sears for the Kenmore name before they are sold in Sears and K-Mart stores. Other examples of B2B selling include parts or ingredients, such as when Intel sells computer chips to Toshiba to manufacture laptop computers or when a fabric company sells cotton fabric to Gap to make their T-shirts.
Many B2B companies, such as Intel, have branded their products so that these products are quickly identified by consumers even though the products are only sold to businesses. These companies believe so strongly in the power of branding (which you learned about in Chapter 1 "The Power to Get What You Want in Life") that they are willing to invest in building the awareness and perception of their brand name despite the fact that you can't go to a Web site or store and buy their product; you can only buy their product because it is a part of another product.
On the other hand, the transactions in which you as a consumer participate are business-to-consumerBusinesses selling products or services directly to the ultimate consumer. (also called B2C), which means that a company is selling a product or service directly to you as the ultimate consumer. In the example above, when Sears and K-Mart sell the Kenmore washers and dryers to consumers, it is B2C personal selling. Other examples of B2C selling include a waiter taking your order at a restaurant, a salesperson helping you find jeans in your size at American Eagle Outfitters, or a real estate agent showing you a house.
Some companies engage in both B2B and B2C selling, such as Staples, FedEx, Microsoft, and Geek Squad, since they serve business customers as well as the ultimate consumer. Many manufacturers such as Dove, Coke, and Oscar Meyer don't actually participate in B2C personal selling, but these brands use B2C marketing to make consumers aware of their brands. Meanwhile, their B2B personal selling organizations focus on selling these products to retailers such as Safeway, CVS, and Sam's Club (i.e., their customers), which in turn, sell their products in B2C channels to consumers like you.
There are some important differences between B2B and B2C selling. B2B selling engages with fewer customers (which makes sense because there are fewer businesses than there are consumers). At the same time, however, B2B selling involves much larger purchases. Companies purchase parts, ingredients, or supplies to service many consumers, while consumers only purchase a product or service for their own consumption or that of their family and friends. Since B2B purchases are larger in value than consumer purchases, the selling process is usually longer. This is as a result of the size of the purchase, and in many companies, there are multiple people involved in the purchasing decision, as you will learn about in Chapter 6 "Why and How People Buy: The Power of Understanding the Customer".
Figure 2.5 Business-to-Business versus Business-to-Consumer Selling Characteristics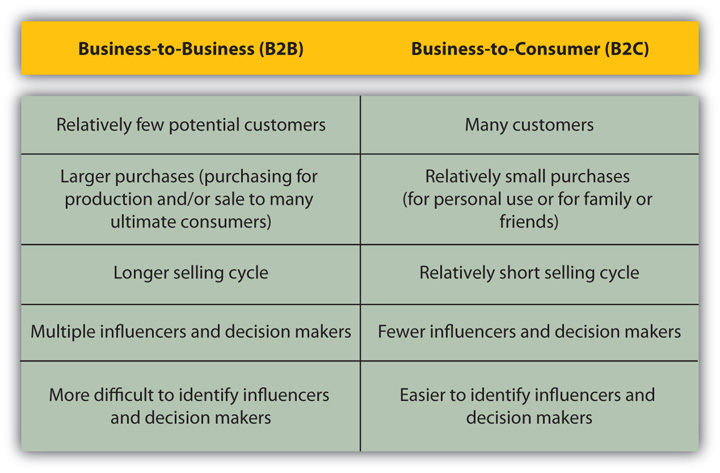 Types of B2B and B2C Selling
When you go to McDonald's and a salesperson asks you if you want fries with your order, there is not much involved on the part of the salesperson. In fact, you may not have even considered the person who took your order to be a salesperson. This is a selling situation that matches the needs of the buyer efficiently with the operation, but it doesn't require a personal relationship or detailed product information to consummate the sale.Gerald L. Manning, Barry L. Reece, and Michael Ahearne, Selling Today: Creating Customer Value, 11th ed. (Upper Saddle River, NJ: Pearson Prentice Hall), 10. The product or service is of low dollar value and no additional contact is required for the sale. This is called transactional sellingEfficiently matches the customer's needs in an operational manner, and no personal relationship is formed., and it occurs in B2C situations like this one, as well as B2B situations.Charles M. Futrell, Fundamentals of Selling: Customers for Life through Service, 10th ed. (New York: McGraw-Hill Irwin, 2008), 55.
On the other hand, consultative sellingType of selling in which there is a long-term or ongoing relationship between the seller and the buyer and the salesperson provides ideas or solutions to the customer based on customer needs. Also called relationship selling., also called relationship selling, takes place when there is a long-term or ongoing relationship between the customer and the seller, and the salesperson takes on the task of truly understanding the customers' needs and providing solutions to meet those needs. In this type of selling situation, adaptive sellingSituation in which the salesperson adapts or customizes her selling style based on the behavior of the customer. takes place. This occurs when a salesperson changes selling behavior during a customer call to improve the exchange or outcome.Gerald L. Manning, Barry L. Reece, and Michael Ahearne, Selling Today: Creating Customer Value, 11th ed. (Upper Saddle River, NJ: Pearson Prentice Hall), 12. Consultative selling takes place in both B2B and B2C environments. For example, if you were working with a financial advisor to develop a retirement plan, the advisor would be consulting you on the best ways to save and how to best invest your money. She would adapt to your needs based on your feedback. If you told her, "I don't want to be in such high-risk investments," this would prompt her to adapt her selling behavior to better match your needs.
In some cases, the selling relationship goes beyond consultative selling and establishes a true method for mutual benefit; this is called a strategic allianceA business partnership in which all parties have something at risk and have something to gain.. In this situation, sellers and buyers work together to develop opportunities and points of difference that wouldn't exist without the relationship.Barton A. Weitz, Stephen B. Castleberry, and John F. Tanner, Jr., Selling: Building Partnerships, 7th ed. (New York: McGraw-Hill Irwin), 36. This type of relationship is usually found in B2B environments because a strategic alliance typically involves two companies that have something to gain by each taking an appropriate risk.
For example, before introducing the iPhone, Apple contracted AT&T to be the exclusive service provider. Each company had something to contribute to the relationship, and each one had something to gain. In this case, AT&T pays Apple for each new customer it receives. Apple increases its revenues, and AT&T gains new customers. Both companies had to invest in research and development to make the relationship happen. Both companies "had skin in the game," so both worked hard to ensure success through public relations, advertising, personal selling, and follow-up customer service. As a result, the relationship has been extremely successful for both parties, as a strategic alliance should be.Leslie Cauley, "AT&T: We're All About Wireless," USA Today, July 31, 2008, http://www.usatoday.com/tech/wireless/phones/2008-07-31-att-iphone-stephenson-apple_N.htm?csp=34 (accessed June 25, 2009). It's important to note that not all strategic alliances are exclusive deals like the iPhone with AT&T. Although the deal between the two companies includes exclusivity until 2010, it's not definite that exclusivity will expand beyond that.Justin Sorkin, "AT&T Urging Apple to Extend Its iPhone Exclusive Agreement until 2011," TopNews.com, April 15, 2009, http://topnews.us/content/24841-att-urging-apple-extend-its-iphone-exclusive-agreement-till-2011 (accessed June 25, 2009).
Power Point: Lessons in Selling from the Customer's Point of View
But Do the Customers Like It?
Satisfied customers are the true measure of success in selling. The University of Michigan publishes the American Customer Satisfaction Index every quarter, which measures customer satisfaction in a number of industries. It's no surprise that in the fast food category, smaller chains led the pack in actual satisfaction scores with Domino's as the highest-rated larger chain restaurant in the May 2009 survey. McDonald's, Wendy's, and Taco Bell also got the thumbs-up from customers.American Customer Service Index, "Rise in Consumer Satisfaction Continues—Now Followed by Other Economic Indicators," First Quarter 2009, http://www.hotelnewsresource.com/article38884ACSI__Customer_Satisfaction_Rises_Again__Now_Joined_by_Other_Economic_Indicators.html (accessed June 23, 2009).
Is It Inside or Outside Sales?
What is the difference between the salesperson with whom you live-chat on BestBuy.com and the person you talk to in the store? Although both are salespeople for Best Buy, the person with whom you conducted live chat is considered an inside salesperson; the salesperson you spoke with in the store is considered an outside salesperson. Inside salespeople rarely, if ever, meet face-to-face with customers, whereas outside salespeople communicate with customers in a variety of ways, including in-person meetings.Michael Levens, Marketing: Defined, Explained, Applied (Upper Saddle River, NJ: Pearson Prentice Hall, 2010), 184.
For many B2B and B2C companies, the outside salespeopleA salesperson who meets face-to-face with customers and performs a variety of sales functions. An outside salesperson may work with an inside salesperson to serve a customer. are generally the primary drivers of sales and costs of sales, since the outside salespeople travel to meet in person with customers to learn more about their needs, build relationships, and provide consultation and solutions. Inside salespeople usually perform more tactical selling functions such as providing product information (as in the Best Buy example above), following up on details, and keeping the customer informed of basic information.
Companies have traditionally used inside salespeopleA salesperson who performs selling functions such as providing information, taking orders, and following up using communication methods such as telephone, e-mail, text, or fax but does not actually meet with the customer face-to-face. An inside salesperson may work with an outside salesperon to serve a customer. because they are part of a strategy that helps keep selling costs low. Today, many companies are converting outside salespeople to inside salespeople to further reduce selling costs. Advances in technology are blurring the lines between inside and outside salespeople by providing platforms for inside salespeople to be more collaborative and consultative with tools such as video conferences, Webinars, wikis, and more. Traditional thinking is changing, as evidenced in a recent study conducted by the International Data Corporation (IDC), a sales consulting firm, which found that currently 30 percent of revenues are influenced by inside salespeople.Heather Baldwin, "What Does Sales 2.0 Mean for You?" Selling Power Sales Management eNewsletter, March 3, 2008, http://www.sellingpower.com/content/newsletter/issue.php?pc=801 (accessed March 16, 2010). As more companies leverage technology and think differently about customer relationships, the concept of inside and outside salespeople will evolve around the most mutually efficient and beneficial customer relationships, rather than the physical location of the salespeople.
Video Clip
Bad Day
Selling is a challenging profession, especially when you say the wrong thing. If you think you are having a bad day, watch this video to hear about some actual selling blunders. It will make you feel as if your day isn't so bad after all!
A bad day in sales.
What Kind of Job Can I Get in Sales?
You have the power to choose your career. Do you want to travel across the country or around the world to meet with customers and understand their needs and develop new business opportunities for your company? Or would you rather be a technical specialist, or a subject matter expert, and talk to customers about exactly how your product or service works? No matter what you want to do, chances are there's a sales role that you will enjoy. Table 2.1 "Types of B2B and B2C Sales Positions" shows a snapshot of several different types of B2B and B2C sales positions that you might want to pursue and the industries in which you might find them.
Table 2.1 Types of B2B and B2C Sales Positions
Title
Description
Industries
Sales representative, account executive, account manager, marketing representative, sales consultant, sales associate

Responsible for a group of customers with primary responsibility to develop and maintain close relationships with existing customers by understanding their needs and providing solutions
Identifies and develops new customers
Meets revenue and profit goals

B2B: Technology, IT services manufacturing, hospitality, pharmaceutical, telecommunications, media, packaged goods, real estate, professional services
B2C: Real estate, high-value retail, financial services

Territory manager

Same as above, but customers are all in the same geographic area, or territory

B2B: Technology, manufacturing, hospitality, pharmaceutical, telecommunications, media, packaged goods
B2C: Not widely used in B2C

Business development manager

Responsible for identifying, prospecting, and developing new customers
After the customer signs the contract (or buys the product or service), the account manager takes over the day-to-day contact with the customer
Meets revenue, profit, and new customer acquisition goals

B2B: Technology, IT services, manufacturing, hospitality, pharmaceutical, telecommunications, media, packaged goods, business services, professional services, transportation
B2C: Not widely used in B2C

Customer relationship manager

Responsible for the overall satisfaction of the customer
Usually a part of selling organizations that provide long-term professional services

B2B: Technology, IT services, manufacturing, hospitality, pharmaceutical, telecommunications, media, professional services, transportation
B2C: Not widely used in B2C

Product specialist, technical specialist

Expert in a specific product or service area
Participates in sales calls after the customer shows an interest to demonstrate or describe use and applications of the product or service

B2B: Technology, IT services, manufacturing, hospitality, pharmaceutical, telecommunications, media, professional services
B2C: High-value retail, financial services

Customer service representative

Takes orders, provides product information, processes orders internally, and follows up as necessary with the customer
May also provide outbound calls to customers to follow up

B2B: Technology, IT services, manufacturing, hospitality, pharmaceutical, telecommunications, packaged goods, professional services, health care
B2C: Retail (including online selling), packaged goods

Telesales representative

Makes outbound or inbound contact with customers over the phone
Activities include identifying prospective customers, providing information, completing a sale, and performing any necessary follow-up

B2B: Technology, IT services, telecommunications, media, professional services
B2C: Retail, insurance, financial services, publishing, political parties, causes
Just from the summary in Table 2.1 "Types of B2B and B2C Sales Positions", you can see that there are a variety of different types of sales positions in many industries. You might find it helpful to think about the overall roles and functions that each performs. For example, customer service reps and telesales reps are considered order-takersSalespeople who consummate sales by taking orders from customers. because they interact with customers to consummate a sale, but their role does not require planning or consultative selling. On the other hand, positions such as account manager, territory manager, customer relationship manager, and business development manager are order-gettersSalespeople who develop sales through relationship selling and repeat sales. because they actually work to develop a relationship and solve customers' problems on an ongoing basis. Sometimes, account managers, account executives, territory managers, and other similar roles perform missionary sellingSalesperson who contacts key influencers and discusses product or service benefits., which means that they call on customers who are not the ultimate purchaser. For instance, if you were a professor and an account manager from a textbook company called on you and brought you a copy of a new book on sales management for next semester's class, that would be considered missionary selling because the sales rep would be telling you about the textbook, but you are not the ultimate purchaser. In this case, the sales rep is calling on you so that you adopt the textbook, put it on your syllabus, and as a result, your students purchase the textbook.
Power Selling: Lessons in Selling from Successful Brands
What's in a Name?
Nike no longer uses the title "sales rep" for people in their sales force; their titles are now "account executive" and "account manager." The change in titles is a reflection of their recent change in selling strategy. Nike realized that simply bringing new samples to retailers isn't enough in this competitive marketplace. They consider planning to be a major part of the selling process, and the sales team plays a key role in planning in two ways: helping customers, such as retailers, plan their business and providing feedback and insights back to Nike to help plan the next generation of products. At Nike, your title says it all.
If you are considering a career in sales, the Selling Power magazine "50 Best Companies to Sell For Now" is an excellent resource to identify prospective employers.
Link
Selling Power Magazine
"50 Best Companies to Sell For Now" (subscription required)
You can also learn more about specific descriptions of sales positions by reviewing some job postings on Monster.com, Yahoo! HotJobs, or CareerBuilder.com using sales in the keyword search.
Direct Selling
You may have been invited to a "party" at a friend's or relative's house to see the new line of Nutrilite Ocean Essentials vitamins and supplements. You have heard good things about the products from your friend. You didn't realize that Nutrilite also made sports drinks and energy bars. You have a great time trying the products and talking to everyone at the party, so you decide to try the Nutrilite ROC 20 Antioxidant Enhanced Drink Mix, and you order it in three flavors.
You just experienced the direct sellingThe sale of a consumer product or service away from a fixed retail location. process, "the sale of a consumer product or service away from a fixed retail location." Some of the most well-known direct selling companies are Amway, Mary Kay Cosmetics, Avon, and Pampered Chef. There are over 15 million people in the United States who sell products or services via direct selling, which is almost four times more than twenty years ago. In 2007, the industry generated $30.8 billion in sales in the United States.
What makes direct selling so appealing is the fact that you can run your own business using the power of an established brand name and without the costs of manufacturing or providing the product or service. More important, you are your own boss. Although direct selling usually requires an initial purchase of products or services, called starting inventory, many direct sellers have been able to supplement their incomes and in some cases make it their full-time job, earning more than six figures a year. Given the opportunities, you probably aren't surprised to learn that direct selling is growing as a result of the uncertain job market. Recent grads, retirees, and everyone in between are turning to direct selling as a way to safeguard them during the recession. It's attractive because those who sell or distribute the products (also called independent business owners [IBOs]A direct salesperson who distributes a company's products or services and earns income based on her sales.) make a percentage on the products they sell.
But direct selling isn't lucrative for everyone. Not all IBOs maintain their focus and develop their network. It's hard work running your own business. It takes time, discipline, effort, focus, and passion. In fact, only 10 percent of IBOs work full-time or at least thirty hours a week.
Many direct selling companies engage in network marketing, also called multilevel marketing (MLM)A selling system in which independent business owners recruit people to become IBOs and earn incentives based on the sales of the new IBOs., which allows IBOs to invite other people to sell the products and earn money based on the sales of those they recruited. If you think about the concept of social networking on Web sites such as Facebook, it's easy to understand MLM. You can expand your network of contacts simply by tapping into the network of your friends; MLM operates on the same principle. If you sell to your friends and they sell to their friends, your opportunity to earn money expands significantly with every contact. So if you were an IBO for The Body Shop and you recruited your friend Jessica to be an IBO, and she recruited her friend Lashanda to be an IBO, you would not only make commission on your product sales, but also on the product sales of Jessica and Lashanda. You can see how being a part of an MLM company can offer significant earning potential.
Unfortunately, there have been some unscrupulous people involved in the MLM business, and some have created pyramid schemesA selling process that involves the exchange of money for recruiting people to participate in a multilevel marketing company without producing sales. This business practice is not sustainable and is illegal in many states. in which many people have lost money. As a result, most states have laws against "pyramiding," a practice that offers incentives simply for recruiting new members of the network or IBOs. The laws require incentives to be paid only when sales are generated.
You might want to check out the top multilevel marketing companies worldwide at the Web site noted here.
Link
Top Multilevel Marketing Companies
Other Selling Environments
You've now seen how B2B, B2C, and direct selling work. Still, there are some other selling environments that you may also want to explore.
Entrepreneurial Selling
Martha Stewart (Martha Stewart Living Omnimedia), Mark Zuckerberg (Facebook), and Jeff Bezos (Amazon) each had a unique idea for a product or service. And while good ideas are key to building a business, what ultimately made each of these people successful was their ability to sell their idea to their customers and to their investors.
If you have the passion and vision to start your own business, you will need selling skills no matter what business you decide to create. Being an entrepreneur can be exhilarating, invigorating, and exciting. But it can also be challenging, time-consuming, and frustrating. That's why successful entrepreneurs, like successful salespeople, plan, do their homework, listen to customers, and make ideas and solutions come alive. It's no surprise that the traits of a successful salesperson discussed earlier in this chapter are the same traits that are required of an entrepreneur. Just like the different types of sales positions covered previously, there are virtually unlimited types of businesses that can be started by entrepreneurs. Consider the fact that the Internet levels the playing field because it provides business opportunities to all businesses regardless of size. Many of these entrepreneurial business opportunities were not available even a few years ago (and will undoubtedly provide new opportunities that don't even exist yet). So whether you are a Power Seller on eBay or a dog-walker in your neighborhood, you have the power to start the business of your dreams. This course will give you the invaluable skills and the insights necessary to do so. In fact, Chapter 15 "Entrepreneurial Selling: The Power of Running Your Own Business" is devoted entirely to entrepreneurial selling.
Domestic versus Global Selling
Does technology eliminate the need for salespeople, or does it create opportunities to connect the dots between the company and the customer? Are salespeople more important domestically or globally? Is there a different expectation for global selling? Although these are complex questions that could take an entire course to address, you might find it helpful to know that the outlook for personal selling both in the United States and internationally is very strong. According to a study of executives from the United States, France, and Mexico, "Personal selling is not going to go away and the future looks bright." Furthermore, the study found that with the use of technology, and in many cases because of it, it's even more important that salespeople not only know the product and the customer, but also the industry and the environment. The diversification of product lines and customers' needs for ancillary products such as service agreements, maintenance contracts, and multilingual options, make a skilled salesperson even more important in the transaction.
Companies expand internationally for several reasons, one of which is that business in the United States is extremely competitive, so companies need more opportunities to increase sales and profits. In some cases, the only opportunity for growth is to expand internationally. But international selling presents an additional level of challenges, including cultural, political, legal, demographic, and economic issues. Nonetheless, countries such as Brazil, Russia, India, and China, often referred to as the BRIC nations, are quickly transforming the global economy. China and India account for one-third of the world's population, and so they represent a huge opportunity for global companies. It's likely that a company for which you sell will be doing business internationally, and if it's not now, it will be some time soon. Some global companies include a one- to three-year sales assignment based in a foreign country.
Nonprofit Selling
Nonprofit organizations are those that use their proceeds to reinvest in the cause and are granted "tax-exempt" status from federal and other taxes. Religious organizations, charitable organizations, trade unions, and other specifically defined organizations may qualify as nonprofit. In fact, your school may be a nonprofit organization.
You might be wondering what selling has to do with nonprofit organizations. The fact is that fund-raising and the development of endowments are actually the lifeblood of nonprofit organizations. Your school may have a director of alumni relations and development. This is the person who secures donations for the continued development of the school and facilities; for example, if your school needs a new athletic facility or classroom building, much of the funding would likely come through the alumni office. Just like for-profit businesses, selling is the engine of nonprofit organizations as well. If you have a passion for a particular cause, such as the green movement, breast cancer, literacy, or education, among others, and want to focus on making a contribution by choosing a career in the nonprofit sector, you can find selling opportunities at many organizations. Although you may want to volunteer for some organizations before you make a career choice, there are paying career fund-raising and development positions in the nonprofit sector. Check out these Web sites to see jobs and job descriptions in the nonprofit sector.
Key Takeaways
Companies sell to customers in business-to-business (B2B) or business-to-consumer (B2C) channels. The type of channel is based on the type of consumer who is buying.
B2B selling differs from B2C selling because there are relatively few customers, larger purchases, and longer selling cycle.
When you are engaged in consultative selling, you build a relationship and tailor solutions according to your customers' needs. When you are engaged in transactional selling, you are focused on a single sale or transaction.
There are many different types of selling positions that may vary by industry. You may be involved in outside sales, which includes meeting face-to-face with your customers or you may be involved in inside sales, which includes contact by phone, e-mail, text, instant messaging (IM), or fax, as well as sales support activities.
Other selling environments include direct selling (independent sales agents), entrepreneurial selling (a business started by an individual), global selling (selling in countries outside the United States), and nonprofit selling (also called fund-raising or development).
Exercises
Identify two companies that sell in both business-to-business and business-to-consumer channels. Discuss at least two ways in which they sell differently to businesses as opposed to consumers.
Identify a company that uses both transactional selling and consultative selling. Discuss the difference in the types of products that are sold in each example. Discuss the difference in the customer experience in each example.
Discuss the different types of sales positions you learned about in this section. Which type is attractive to you as a possible career? Why?
Discuss the reasons why someone might want to pursue a career in sales. Discuss the reasons someone might not want to pursue a career in sales.
Research companies and identify which offer some of the sales positions described in this chapter.
Contact a salesperson at a company in your area. Ask him to describe his role in the company, what type of customers he sells to, and what it takes to be successful in sales.
Visit the Web site of one of the multilevel marketing companies such as Pampered Chef (http://www.pamperedchef.com), Amway (http://www.amway.com/en), or Silpada Designs (http://www.silpada.com/public/). Discuss the pros and cons of being an independent business owner (IBO). Discuss the type of selling used by the IBO; is it transactional or consultative?